A month after the Daily Beast's report of rampant sexual harassment at Vice–the ensuing public embarrassment, the HR shuffle, the internal investigation, and the termination of three employees–here we are. The New York Times reports that Vice has reached four settlements involving sexual harassment allegations or defamation against employees.

Most of these did not take place during the "how to fuck a stripper" and "stalking for beginners" era, but as recently as 2016, post-rebranding as a thoughtful youth-led news organization with a social justice mission which attracted major investors like Disney.
The Times list starts off with a $135,000 settlement which Vice's president Andrew Creighton paid last year to a former employee "who claimed that she was fired after she rejected an intimate relationship with him."
And commences:

Earlier this year, the company settled for an unknown amount with Martina Veltroni, a former employee who claimed that her supervisor retaliated against her after they had a sexual relationship, among other allegations, according to people briefed on the agreement and documents viewed by The Times. The supervisor, Jason Mojica, the former head of Vice News, was fired late last month. Ms. Veltroni declined to comment.

And last January, Vice reached a $24,000 settlement with Joanna Fuertes-Knight, a former journalist in its London office, who said she had been the victim of sexual harassment, racial and gender discrimination and bullying, according to documents viewed by The Times. Among Ms. Fuertes-Knight's claims were that a Vice producer, Rhys James, had made racist and sexist statements to her, including asking about the color of her nipples and whether she slept with black men. Ms. Fuertes-Knight, who is of mixed race, is bound by a confidentiality agreement and declined to comment.

Mr. James was put on leave in late November, according to a Vice spokesman. In the settlement agreement, both Vice and Mr. James denied any liability. Mr. James did not respond to messages sent seeking comment.

A fourth settlement, struck in 2003, involved claims that Vice defamed a female writer by publishing that she had agreed to have sex with a rapper whom she had interviewed, when she had not.
G/O Media may get a commission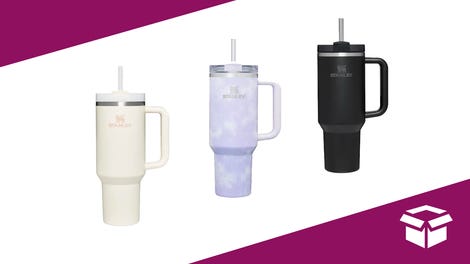 Up to 45% off
Stanley Cup Sale
The last settlement was paid to freelance writer Jessica Hopper who interviewed rapper Murs. She reported that he asked if she wanted to have sex; she declined. But according to Hopper, Vice changed her answer and the headline to "I Got Laid But Murs Didn't."
In addition to the findings, the Times interviewed more than two dozen women, who've described more stories of unwanted advances and "propositions for sex" similar to those reported by the Daily Beast. Journalist and former Vice employee Kayla Ruble describes the inherited sexism best:
"The misogyny might look different than you would have expected it to in the 1950s, but it was still there, it was still ingrained...This is a wakeup call."
Vice is doing its public soul-searching. On Saturday, co-founders Shane Smith and Suroosh Alvi circulated a statement including the following apology to staff:
Listening to our employees over the past year, the truth is inescapable: from the top down, we have failed as a company to create a safe and inclusive workplace where everyone, especially women, can feel respected and thrive. Cultural elements from our past, dysfunction and mismanagement were allowed to flourish unchecked. That includes a detrimental "boy's club" culture that fostered inappropriate behavior that permeated throughout the company. It happened on our watch, and ultimately we let far too many people down. We are truly sorry for this.
They attribute the endemic sexism to "a) our ignorance, b) the inability to see the impact of our rapid growth, and c) the internal dysfunction that ensued" and promise a list of new policies, such as a commitment to pay parity and a third-party hotline to anonymously report misconduct.