On Thursday, Vice Media reportedly fired three employees after an investigation into claims of sexual harassment. This follows a report earlier this month from The Daily Beast on a "toxic" culture of abuse at the company, including some public embarrassments at Broadly, Vice's site for women.
CNN Money obtained a memo sent from global human resources officer, Susan Tohyama, who was hired just four weeks ago. Tohyama writes that in her brief tenure she has received a "handful of workplace complaints" which led to a "thorough investigation":
Today we took disciplinary action, including terminating three employees. The conduct of these employees ranged from verbal and sexual harassment to other behavior that is inconsistent with our policies, our values, and the way in which we believe colleagues should work together.

I know a few people have asked for specifics concerning both the complaints and the discipline we have taken. I believe the confidentiality of the process is necessary to protect all those who wish to bring allegations to me and to create a fair, safe and inclusive environment for all employees.
The memo also outlines the process for reporting instances of harassment or inappropriate workplace behavior, and states that final decisions on disciplinary action are made by Tohyama and the General Counsel, but no other management personnel is allowed to weigh in.
The Daily Beast's report on November 15 focused on interviews with a dozen former and current employees at Vice Media, who "painted a picture of harassing behavior and company indifference." It also further detailed Vice's "Non-Traditional Workplace Agreement," which new hires have been required to sign, affirming they would not be offended by their experiences at the company.*
G/O Media may get a commission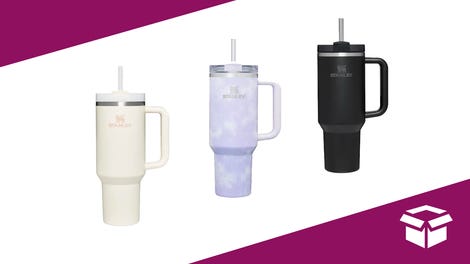 Up to 45% off
Stanley Cup Sale
The report particularly focused on the story of Phoebe Barghouty, who was 23 when she started working at Vice in 2015. Barghouty was hired by bureau chief Kaj Larsen, and her story of his harassment and the subsequent decline of their working relationship suggests there was a very faulty HR system in place preceding Tohyama:
Months into her new job, Barghouty says she went to a human-resources representative to voice her concern about the touching and the parties. "When it comes to talent, we can't really tell them what to do," Barghouty said she recalls being told. "They bring in the money and attention and you just have to deal with it." (The representative disputes this account.)
In their statement to The Daily Beast on Barghouty's accusations, Vice Media emphasized their "provocative programming" as an excuse for the strange workplace agreement, and again in their memo released Thursday, mentioned Vice's history as a "punk magazine exploring the subversive culture that the founders, the magazine's contributors and readers were part of."
But they add that "our company has evolved, our workplace culture has fallen short. We acknowledge this, which is why we have committed ourselves to making the changes necessary to create an inclusive workplace where all our employees can flourish, while being safe and respected."
* Update 3:26 PM: A Vice spokesperson tells Jezebel that that the "non-traditional workplace agreement" is no longer in use, as recommended by the Diversity & Inclusion Advisory Board recently assembled by the company.