A journalist for the Los Angles Times has reportedly been banned from covering phone calls and events for The Bachelorette by ABC, prompting her editor to pull coverage of the show until she's allowed to properly report on it again.
On Monday, Amy Kaufman of the LA Times – who has written about the franchise for several seasons – tweeted that this season, she would only sharing her thoughts about the festivities on social media:
Kaufman added that anyone upset about her lack of coverage should contact ABC's publicity department and Robert Mills, a Bachelor executive producer.
G/O Media may get a commission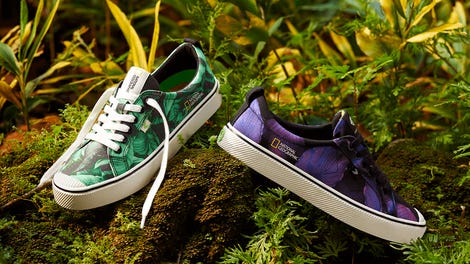 New New New
Cariuma + National Geographic
I've emailed ABC to ask them about the decision and will update when I receive a comment back. As for Robert Mills, he might not like Kaufman's coverage, but he has been touting the work of Emily L. Foley, a freelance writer who (like Andi Dorfman) lives in Atlanta. Foley was apparently at the taping of Andi's first night on the show and posted a photo of herself with Harrison and Mills during the taping. She also seems to have a chummy Twitter relationship with a few Bachelor stars, including Andi.
In the past, Kaufman's done interviews with contestants and even Chris Harrison, plus recaps. While her coverage hasn't exactly been glowing, it hasn't been wholly horrible either. Perhaps she took one too many stabs at ABC last season, a network that tried to turn their poor choice of Bachelor Juan Pablo into a joke this season (see the posters for The Bachelorette featuring a tagline about Andi finding her "Juan"). In her piece about the finale of last season, Kaufman definitely took hits at ABC for their handling of the Juan disaster:
From the beginning, I didn't have a good feeling about JuanPabs. Though ABC touted his status as a fan favorite during his turn on "The Bachelorette" last year, I never really felt that "Bachelor" nation was super into him. Basically, we all thought he was hot. We never said we wanted him to be The Bachelor.
Nothing Kaufman wrote was out of line with the general sentiment about last season, she's just lucky/unlucky enough to live in LA and have access to the Bachelor events many commenters and recappers can't attend (though obviously phone calls could be open to anyone). Again in her finale recap, Kaufman discussed how upset Chris Harrison was when Juan Pablo wouldn't talk about his feelings for Nikki, blaming it ABC for picking Juan:
I understood this, in a way, because when you go on the show, you're expected to open up and share your emotions. Juan Pablo didn't, which made him a bad Bachelor. (But hey, that's on you, ABC. Don't think you can cast a hot dude with no brains ever again. It won't fly.)
Kaufman also noted that it was "clear there's bad blood between Juan Pablo and ABC" and called that season a "disaster":
I can only hope ABC takes a serious lesson away from this disaster of a season. I'm encouraged that Andi has been selected as the next "Bachelorette" — she has a real job, seems genuinely interested in finding love and isn't afraid to speak her mind. Her dad is also amazing.
Kaufman's finale recap wasn't the only time she was critical of ABC; at other points during last season, she wrote that she hoped the network had "learned its lesson" about casting a dude just because he's hot and has an accent as the Bachelor and wondered whether there has "ever been a season where not only America, but basically the entire cast, turned on The Bachelor?"
Being cockblocked by ABC hasn't stopped Kaufman; she's still live tweeting the show with aplomb, joining an important community of media Bachelor watchers whom ABC and Bachelor producers likely hate. Though the show's ratings are still great (perhaps because of the bad press), as it continues, ABC and Bachelor producers are finding it difficult to command control of the behemoth that is this franchise.
Take, for example, Chris Bukowski, a former contestant from Emily's season who also appeared on Bachelor Pad. Bukowski showed up during the season premiere Monday, gatecrashing Andi's first mixer with the dudes. While Harrison pretended to be surprised that Bukowski had showed up, there's no way he was – especially because after the episode aired, Bukowski gave interviews explaining that the producers "made it seem like they didn't know I was coming, but they knew." Via TMZ:
Bukowski now tells us ... the whole thing was a set up. He wanted to be on the show but he applied too late ... and the producers concocted the idea of showing up unannounced.

Chris says they even suggested a romantic touch — a bouquet of roses.
Then on Wednesday, producer Elan Gale tweeted (and Bukowski retweeted):
So a message to members of the press from The Bachelor "family": you're cool, but only when you're doing it the Bachelor-approved way.
Image via ABC