"I haven't brought a girl home in years," Jordan said on Monday night's episode of The Bachelorette, before explaining to JoJo who she'd meet should she choose to come to his hometown of Chico, California, in next week's episode: his parents, Darla and Ed, and "My oldest brother Luke, funniest guy I know, and hopefully he brings Carl Weathers, the French Bulldog." Notably absent in that list: Aaron Rodgers, Jordan's famous older brother, quarterback for the Green Bay Packers.

JoJo noticed the omission immediately. How could she not, when Jordan's presence has been shadowed by his sibling, both in the house and in coverage of the show this season. "My middle brother won't be there," he told her, before explaining his version of why not:
Like I said, I have a great relationship with my brother Luke. Me and Aaron don't have that much of a relationship. It's just kind of the way he chose to do life and I chose to stay close with my family and my parents and my brother. Yeah it's not ideal. And I love him and I can't imagine what it's like to be in his shoes and have the pressure that he has and the demands from people that he has. I don't have hard feelings against him, it's just how things go right now.
It sounds a lot like Jordan's saying Aaron chose not to be close to their entire family anymore because he's too famous. The conversation then continued, with JoJo asking Jordan, "Does he know that you're doing this?"
Jordan: I don't think so.

JoJo: So you guys don't talk at all?

Jordan: Not really.
JoJo's voice contained surprise and clearly a little bit of disappointment—and why wouldn't it, when Jordan's let her and everyone else go on the assumption up until this point that he and Aaron were copacetic.
At every step of my life I was just kind of disappointed, and no matter what I did it was never good enough for a coach or a teammate because I was being compared to someone who did it the best. When I walked away from playing—I could have kept playing—but football didn't define me. And not having a great relationship with my brother Aaron or people thinking what that relationship should be didn't define me. I'm defined by the character I have with the humility I've been taught by my parents, which is what I want people to see.
G/O Media may get a commission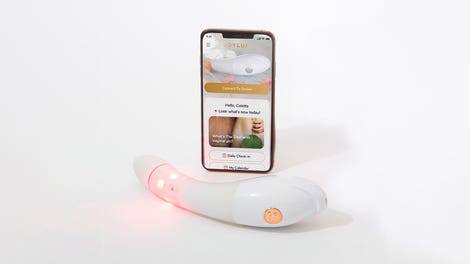 $50 Off
Joylux vFit Gold Device
He's suggesting here that others had certain professional expectations of him and he hasn't lived up to them, and that that's been hard. In the promo for next week's episode, we see that JoJo will meet Jordan's family (sans Aaron), and his brother Luke says of the situation, "It's something we don't really like to talk about a whole lot."
But let's dive into what Jordan claimed and what we know. When Aaron Rodgers first hit the scene, there was no indication there was any issue with him or his family, particularly with his parents. From a 2005 article about Aaron being considered for the NFL draft in the Racine Journal Times:
"Growing up, my dad told us that drinking in college kind of prevented him from becoming the player he wanted to be. That kind of scared me into not doing any of that stuff." And then there was the environment in which Aaron and his two brothers were raised. The house was clean. Food was always on the table. And there was always love. But as Edward Rodgers struggled to make ends meet before finally becoming a chiropractor, there was never anything much.

From that environment, Aaron Rodgers developed a strong work ethic.

"I think my greatest motivation is making my parents proud and seeing the sacrifices they made," Aaron Rodgers said. "We grew up without a lot of money and dad moving from job to job and doing different things and going shopping maybe once a year for clothes and wearing the same pair of shoes for basketball that I wore for school.

"Growing up and not having a lot I think taught me a lot about life. And I saw how hard my dad worked. Now he's doing real well and that just showed me that hard work pays off."
Yeah, that's some sports glory propaganda, but there's no indication from his quotes that he had any issues with his parents, at least early on. And from a 2011 New York Times article:
An old friend of Ed Rodgers attended one of Rodgers's sporting events and told Aaron afterward, "You're a really good player." As Ed Rodgers recalled: "Aaron was like: 'Yeah, but you should see my brother. He's better.' The gentleman turned to me and said, 'You know, that response is really rare.' "
Luke also played sports in high school, so this anecdote could have been about him, but again, there's no indication of strife in the general family. Here's a 2011 workout video of Jordan and Aaron being chummy as all get out:
Jordan's sports career was short-lived, but his close friendship with Packers offensive tackle David Bakhtiari (whom he calls "one of his best friends in the world") meant that he had a cameo in 2015's Pitch Perfect 2, along with other members of the team. Jordan has suggested he got to know Bakhtiari because he lived with him before the NFL draft, not through Aaron. Since The Bachelorette has aired, he's described his relationship with Aaron as "complicated," but when he was doing press for Pitch Perfect 2, he was making jokes about Aaron not being in the cameo because he "doesn't have the voice."
In 2014, Aaron started dating actress Olivia Munn. Munn is also friends with Brittany Farrar, a trainer now known for posting an Instagram earlier this season clearly suggesting that Jordan cheated on her, a story JoJo brought up earlier in the season because she said she heard it from Brittany herself. Munn showed her support by liking Farrar's post on Instagram.

There appears to be no bad blood between Munn's family and Aaron; Munn has spoken many times about her mother loving Aaron, and there are photos of them with her whole family. But some think that she's driven a wedge between Aaron and his family, partially for talking openly about their sex life in the press. From Terez Owens:
The issue seems to be especially between older brother Luke and His girlfriend Lindsay Davis and Aaron and Olivia. It all boiled over when Francis Blay, a long time friend of both of them, got married. Aaron was supposed to be a groomsmen and at the last second bowed out as a groomsman and didn't show up at all.
Caption reads, in part: "#truefriendsshowup #wouldntmissitfortheworld #rememberwhereyoucamefrom." Aaron has also apparently unfollowed his brothers on Twitter, and they don't show up on each other's social media platforms, for obvious reasons.
In April, when it was first suggested that Jordan had been cast on the show, Reality Steve reported that it was unlikely Aaron would make an appearance, "Mainly because Jordan and Aaron don't have much of a relationship, and well, neither do Aaron/Olivia with his family. Draw your own conclusions as to why." Since then he's doubled-down on those assertions, breaking new stories about other shady dealings Jordan has had with women, as well as his claims that Jordan only went on the show for fame and to get a job in sports broadcasting (which he has already achieved). But in a interview from February where Jordan is seen "networking" at a sports event, he describes Munn as "great" and agrees with the interviewer that he is "absolutely" pretty close to his brother.
Since The Bachelorette started airing, and Farrar made her claims publicly about Jordan, there's been even more gossip about his morals and intentions, and he has had to deny that he was on the dating app Raya at a time when he should have been committed to JoJo.
So what do we know? That yes, Jordan clearly has a "complicated" relationship with his brother. That his brother, for reasons not quite known, now has a complicated relationship with his immediate family, one that Jordan attributes to his fame and that others think is because Jordan's a cheating fame whore. Nothing is certain (particularly because Aaron isn't blabbing his mouth about it all), but it isn't the one-sided situation Jordan presented to JoJo last night, which was just the latest example of sketchy behavior on his part.
"I don't wanna mess it up," Jordan said to JoJo last night. "You're not gonna mess it up," she replied. Whoops.