Since before this season of The Bachelorette began airing, rumors have been swirling that frontrunner Jordan Rodgers, brother of NFL player Aaron Rodgers, is more than a bit of a cad. But events of this week are making him clamor to prove that he's really a fine dude, he swears!

Jordan's ex-girlfriend Brittany is a trainer and best friend of actress Olivia Munn, Aaron's girlfriend. Following the premiere of the show, she took to Instagram to suggest Jordan cheated on her.
Much has been made of Brittany's post, though the mainstream tabloid press has not written a ton else about Jordan's behavior. Reality Steve, however, has known for awhile that Jordan has a Raya account, which is a dating app for famous and semi-famous people. And on Wednesday, Entertainment Tonight posted a photo that purported to show Jordan's active profile.
G/O Media may get a commission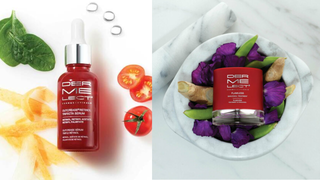 Save $19
Retinol Renewal Kit
Well that one really hit Jordan where it hurts, probably because he was already getting attention for his conversation with JoJo from Monday's episode in which he denied "physically" cheating on Brittany. It's one thing to be accused of cheating on your girlfriend before going on the show (Jordan is one of three men this season that actually have that honor), but it's quite another to be accused after the fact, especially when you are so clearly the favorite to win the entire damn thing.

In screenshots tweeted out last night and this morning, Jordan has included an email from Raya that claims the last time he accessed the app was March 11. I'll transcribe Jordan's entire diatribe (which he penned on the Notes app) here; I'd suggest reading it in its entirety, as it ends suddenly with his complaints about how it was hard for him to pay his utilities while he was overseas filming a reality television show.
I had a Raya account through February. Unlike ever other contestant on this show who was flown for final selection and finalized spot on the show in January I was never contacted nor was the show even on my radar until Early March just over a week before filming I was reached out to by a producer. I did not sign nor agree to do the show until March 12th, the day before we reported to LA for filming. I still have not even signed a contract. My name was leaked before I ever gave a verbal and in fact I said I would not do it, yet I was leaked anyway before agreeing. I inactivated my profile on Raya immediately before filming. Meaning my profile was no longer visible to anyone to "match" or anything. Obviously I had no clue how long or what the show would hold for me. Per contract, immediately after my filming on the show ends I cannot use these types of applications nor would I want to breach contract by doing so. I immediately deleted the profile as soon as I had access to do so. However the auto renewal had already been processed through the month of May and into June. Despite this I have not used the app, had it on my phone, or accessed it in any capacity since before the show despite auto pay renewal being active unbeknown to me. These reports are false. I would not be dumb enough to breach my contract or do anything related to a dating app to give any insight to what may or may not have happened on the show. I will be reaching out to @raya to assure this matter gets address bc I am not currently paying for nor have access this application since filming ended for me. Any photos attempting to prove otherwise are old screenshots from before filming. I am not subscribed to this app nor have it on my phone. And to prove these allegations are false and photos not to date here is an email showing my subscription was terminated due to lack of payment renewal on 6/13, and I will reiterate my profile was inactive/and hidden to all users since filming of the show started. Had I had any lead time more than 24 hours to know I was going to be on this show I would've more efficiently wrapped up issues like this including my gas/electric bills which I missed and had to try to pay, without access to my phone, from another country during filming.
Yep, this show is really about love!
---
Images via ABC.