ABC has released their first promo image for the upcoming season of The Bachelor and they'd like to make it clear that Chris Soules is "Traditional. Classic. All-American" - aka white.
Ana Gasteyer Satirizes the Girl Boss in 'American Auto'
This promo comes just days after the network announced that the show would be getting its own float in the Rose Parade, which, as it precedes a large football game, is one the most all-American events you can be affiliated with.
G/O Media may get a commission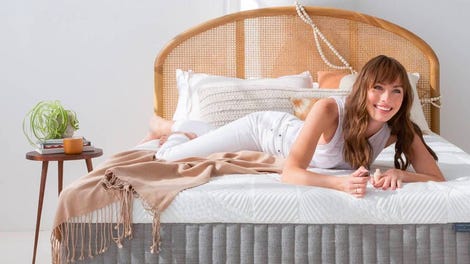 Sleep Sale
Sleep Sale - Brentwood Home
All-American d0esn't have to mean white (demographically it certainly doesn't), but historically, that's what that word has meant. More tellingly, given how Juan Pablo was marketed last season (his status as some sort of Latin lover was endlessly winked at), it's clear that ABC is continuing to attempt to convince viewers that this time, they picked a good one. They want to make sure it's known that Chris isn't some Casanova from Venezuela. (Juan Pablo, by the way, was born in America.) Last season was all romance; this season is all practicality. Juan Pablo might have been sexy but he was too sexy for The Bachelor franchise.
There's obvious concern about the damage Juan Pablo caused the brand, but those involved should probably be a little more careful about emphasizing how desirably white bread their new pick is, given that the show's diversity issues aren't going anywhere. And spoiler alert: Juan Pablo wasn't a dick because he wasn't American enough or white enough or traditional enough or classic enough; he was a dick because he was a dick.
The Bachelor premieres January 5.
Images via ABC