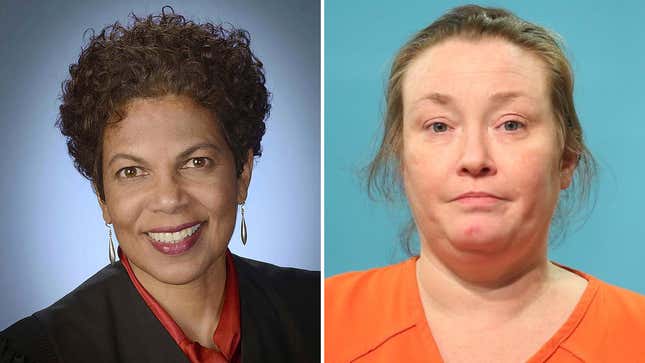 A Texas woman was arrested and charged with threatening to kill the judge assigned to President Donald Trump's January 6th criminal case. Earlier this month, 43-year-old Abigail Shry called the chambers of Judge Tanya Chutkan and left a racist (to say the least), threatening voicemail in which she called the judge, who is a Black woman, a slave and lobbed the n-word at her.
Ted Cruz Won't Commit to Pleasuring a Man to End World Hunger
According to the affidavit, Shry made the call to the federal courthouse in Washington, D.C., shortly before 8 pm on August 5. (The day before, Trump posted, "If you go after me, I'm coming after you!" in all caps on Truth Social.) "Hey you stupid slave n——," Shry said on the voicemail. "You are in our sights, we want to kill you. … If Trump doesn't get elected in 2024, we are coming to kill you, so tread lightly, b——." She continued, "You will be targeted personally, publicly, your family, all of it." Shry also threatened to kill Rep. Sheila Jackson Lee (D-Texas), a Black woman who is running for mayor of Houston, and threatened all Democrats in Washington as well as all members of the LGBTQ community.
An agent with the Department of Homeland Security showed up to Shry's door in Alvin, Texas, three days later. Shry told the agent that she did make the phone call but had no plans to travel to D.C. or Houston—but she added that "if Sheila Jackson Lee comes to Alvin, then we need to worry."
Shry was denied bail at a hearing this week and ordered to be held in custody for at least 30 days. Her father, Mark Shry, testified at the hearing that Shry is a "nonviolent alcoholic" who "sits on her couch daily watching the news while drinking too many beers." He added that she "becomes agitated by the news and starts calling people and threatening them."
The judge said Shry had been criminally charged four times in the past year for "similar conduct" and was convicted twice. Her most recent charge was on July 11 for "causing fear of imminent serious bodily injury," and she was out on bond in that case when she made the threatening phone call.
The judge said after her 3o-day detention there will be another hearing to determine if she should be admitted to inpatient substance abuse therapy and mental health treatment.
Chutkan was randomly assigned to the case, but she's the worst judge Trump could have drawn, as she's given January 6 insurrectionists harsher sentences than the government has even asked for. The U.S. Marshal Service has heightened security for Chutkan after Trump complained about her on Truth Social.