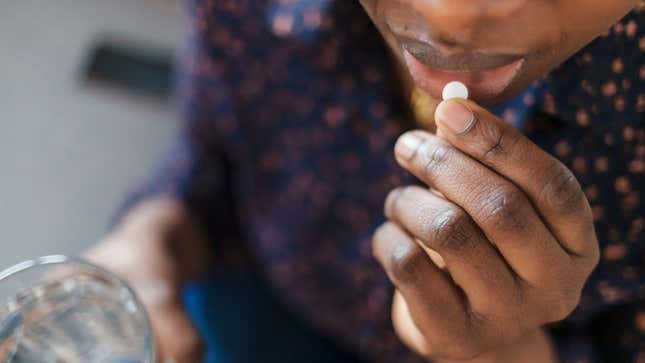 A South Carolina woman was arrested and charged this week after allegedly taking abortion pills to end her pregnancy in October 2021. Local outlet The State was the first to report the news. Abortion is currently legal in South Carolina through 22 weeks but its three clinics only offer care through about 14 weeks, and it's one of the few states that bans self-managed abortion.

Republicans Pull Out All the Stupid Stops While Debating Abortion
According to a police report obtained by Jezebel, the woman sought medical care for labor pains at St. Francis Hospital in October 2021, when she was 33. (The hospital is part of the Catholic health system, Bon Secours.) The woman told healthcare workers that she had taken pills to end her pregnancy. The county coroner's office reported the incident to Greenville Police a few days later, though it's not clear if the hospital reported it to the coroner's office first. The report said the fetus was stillborn at about 25 weeks and four days' gestation. Greenville Police got a warrant for her arrest in September 2022.
The State did not name the defendant "because the charges are related to a personal medical procedure," which is a good precedent to set now that Roe v. Wade has been overturned and more people will be criminalized. Jezebel is not naming her either. But to be clear, people were arrested for abortion and miscarriage while Roe was law in states that don't have explicit bans on self-managed abortion, like Texas and Nebraska.

The woman is identified in the police report as being Black. Black, brown, Indigenous, and other people of color have been disproportionately criminalized for their pregnancy outcomes for decades.
The alleged abortion happened months before the fall of Roe, and it's unclear why police didn't charge the woman with "performing or soliciting an abortion" until this week. She reportedly posted $2,500 bond and was released.

Dana Sussman, acting executive director of Pregnancy Justice, told Jezebel in a statement that South Carolina is only one of three states to explicitly criminalize self-managed abortions. "This case predates the reversal of Roe, but we sadly know it's indicative of where we're headed. Self-managing an abortion with medication is extremely safe; it is the criminalization of it that makes it dangerous," Sussman said. "Like so many cases, the sharing of personal medical information with a provider led to criminal charges. Seeking care or self-managing an abortion should never lead to criminal prosecution."
"It's very unfortunate that this is something that's occurring in our state, and it's something that state lawmakers should be looking at in the immediate future," Ashley Lidow, the director for policy and government relations for the Women's Rights and Empowerment Network, told The State.

This woman's story is a reminder that people self-managing their abortions can be reported to police, even by medical staff. An August 2022 report from If/When/How found that, in 61 cases where adults were investigated for pregnancy outcomes, 45 percent were reported to law enforcement by care professionals, including doctors, nurses, and social workers. Advocates stress that people do not have to tell healthcare workers that they used abortion pills or other means to end their pregnancies. People showing up to get medical care can simply say that they're having a miscarriage.
People who need assistance self-managing a miscarriage or abortion can call the Miscarriage + Abortion Hotline at (833) 246-2632 for confidential medical support, or the Repro Legal Helpline at (844) 868-2812 for confidential legal information and advice.
This is a breaking news post and will be updated.