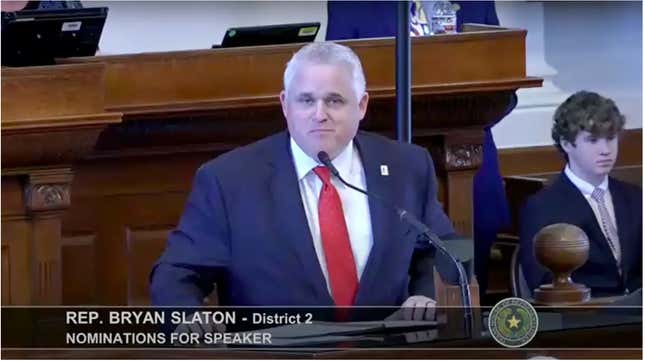 A House Committee in the Texas state legislature on Saturday recommended the expulsion of State Rep. Bryan Slaton (R), who reportedly plied a 19-year-old intern with alcohol in his apartment, had "inappropriate sexual conduct" with her, and then gave her a "loyalty test" to try and pressure her to stay silent.
Olivia Holt Didn't Originally Get the Part of Roxie Hart in 'Chicago'
"We find that Representative Slaton has engaged in inappropriate sexual conduct with a subordinate," State Rep. Andrew Murr (R), chairman of the House General Investigating Committee, said in a floor speech announcing the results of the investigation. "That behavior was induced by alcohol that Representative Slaton provided to that 19-year-old subordinate. Representative Slaton then acted systematically to influence that subordinate and multiple witnesses and obstruct the investigation into the matter."
As the Texas Tribune first reported, Slaton had invited the intern over to his Austin apartment in March to drink and have some kind of sexual contact. Days later, per the report:
After the incident, Slaton allegedly showed the intern fake emails that purported to have information about the incident in what appeared to be something of a loyalty test, according to the complaint and a person with direct knowledge. After presenting her the email, Slaton allegedly told her to not speak with anyone about the incident.
Like many of his fellow Republicans, Slaton has been on a crusade against drag queens and abortion while serving in the Texas legislature. He introduced a bill in March that would ban drag shows with minors present and has tweeted about drag shows leading to the grooming of children: "We must protect Texas kids from sick adults who want to sexualize them," he wrote in one.
Slaton also introduced a bill in 2021 that would ban and criminalize abortion, with no exceptions for rape or incest, and make providing or having an abortion potentially punishable by the death penalty. "It is time for Texas to protect the natural right to life for the tiniest and most innocent Texans, and this bill does just that," Slaton said at the time. "It's time Republicans make it clear that we actually think abortion is murder."
Slaton has not commented on the current allegations against him, but his lawyer called them "outrageous" and "false" in a statement to press in April.