In a move that automatically and unconsciously forced me to compare a Real Housewives of New Jersey star to Bette Davis in every Bette Davis movie cliché, Teresa Giudice stormed of the set of an interview with Access Hollywood Live after one of the hosts brought up her husband's hypothetical but possible future deportation.
During the segment, Access Hollywood co-host David Karger asked the TV personality what the chances are that her husband Joe Giudice, who is currently serving a 41-month prison sentence for fraud, will be deported to his native country of Italy after his term is up.
Teresa, who was seated next to her RHONJ co-star Melissa Gorga, was not receptive to Karger's query, to say the least.
"Next question please," she said, adding that she didn't think it was appropriate for him to ask her about the matter on the air.
In a turn of events that reminded me of a Larry David sketch in the worst way, Karger's co-host Kit Hoover attempted to salvage the situation by reiterating the potential horror of what Karger described as "the end of your family unit as we know it."
G/O Media may get a commission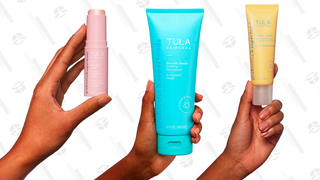 "Well everybody's talking about it, and it could be a reality," Hoover stated.

Before the Access Hollywood anchor could continue, Giudice interrupted her. "I think that's really rude," she retorted.
Hoover then attempted to justify the question on journalistic grounds, citing that "it is a fact" and that audiences were "probably going to see [the issue at hand] on the show [RHONJ]."
"No, you're not gonna see it on the show," Giudice threw back in response,
"As a matter of fact, I'm going to leave," she concluded, grappling with her microphone clip before hurtling out of the cage that is broadcast media.
Hoover heralded her exit by blaming her escape on (and yelling the name of) her co-host in a fashion that can only be described as "something that should be immediately stopped."
"Karger! Look what you did," she exclaimed, before repeating his name ad nauseam.
After Giudice's departure, Hoover took the remaining minute in the segment to once again account for the offending question, and proceeded to high-five Karger regarding the walk-off.
On the bright side, "Karger? KARGER! DON'T LET THIS AFFECT YOUR EMMY NOMS!" will be what I will yell in the streets in the future whenever I am belligerent and drunk for the rest of my life.
[People]
---
Update (9:57 p.m. EST): The original version of this article incorrectly cited Kit Hoover's name.
---
Image via YouTube.