At a press conference Thursday morning with Gloria Allred by her side, Karena Virginia became the tenth woman to accuse Donald Trump of sexually assaulting her. Virginia said Trump touched her breast her in 1998, when she was waiting for a car at the U.S. Open.
"What makes today's accuser noteworthy is that she has shown tremendous courage in coming forward today," Allred said. She added that the alleged incident shows that Trump "selects his victims at random."

When it was her turn, Virginia spoke calmly and deliberately. "After Donald Trump was caught on tape bragging about groping women a number of women came forward to share their experiences. I am here today to add my voice to that of the other Trump accusers. I am here to stand up to Mr. Trump for myself, my family, particularly my daughter." She added that she was also coming forward to support the other women who've accused Trump of sexual abuse, "only to be labeled as liars by Mr. Trump."
"No one has asked me to come forward," Virginia added. "In fact, many people advised me not to come forward about what Mr. Trump did to me," because, she said, he will probably call her a liar. "Or perhaps he will simply label me just another nasty woman."
Virginia added, beginning to cry, "I have lost sleep over this," saying her husband and children have also been affected by Trump's alleged abuse. But she added, "I feel it is my duty as a mother, as a human being, as an American citizen to speak out."
G/O Media may get a commission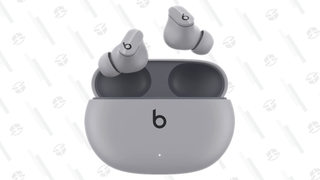 Virginia, a yoga instructor and life coach, said the incident happened at the U.S. Open in 1998, when she was waiting for a car. Trump approached her with a few other men, she said. She recognized him and said she was "quite surprised when I overheard him talking to the other men about me."
"He said, 'Hey look at this one. We haven't seen her before. Look at those legs,' as though I was an object rather than a person. He then walked up to me and reached his right arm and grabbed my right arm. Then his hand touched the right inside of my breast. I was in shock. I flinched. 'Don't you know who I am?' That's what he said to me."
Virginia said the incident made her feel "intimidated and powerless." When her car pulled up, she said her shock "turned to shame." A few years later, she said, she saw Trump again "in a business setting," where he "looked me up and down." At that time, she said, she felt both shame and "disgust."
Virginia added that Trump's "random moment of sexual pleasure came at my expense and affected me greatly." She said too that Trump "revealed his true character in his own words on tape, which indicated that he felt entitled to grab women by their private parts."
Today's press conference was held at the London Hotel in Manhattan; Allred announced a new accuser would go public just after last night's third and final presidential debate, in which Donald Trump wrongly insisted that no one has more respect for women than him and everybody laughed and laughed. Allred called that claim "ludicrous" at today's press conference.

Allred also appeared last week at a press conference with Summer Zervos, who says Trump groped her when she approached him for a job interview.
Correction: An earlier, breaking version of this post misspelled Karena Virginia's name.