With the final season of Teen Mom currently airing, Farrah Abraham is getting her hustle on in an attempt to extend her fame beyond the MTV reality show with a new tell-all memoir, a debut single from a forthcoming studio album, and revelations about drug abuse and suicidal ideations. (She has a serious modeling career to promote, people!) The song, though, is extraordinary—if only for being the most horrible combination of sounds to ever be assembled in the history of audio recording.
I understand why Farrah chose to have and raise her baby Sophia, but her song really should have been aborted. If you're pregnant, it probably isn't safe to listen to it. Avoid it as you would rollercoasters or sushi. "Finally Getting up From Rock Bottom" features an egregious amount of Autotune that somehow manages to make her voice sound worse. It's an aggressively ugly song that sounds like something that would maybe be playing in one of those torture rooms in Hostel.
"This is my song for finding happiness," Farrah tells In Touch. Evidently, for Farrah, happiness sounds like the horror of walking in on your parents having sex, the pain of getting your anus waxed, and the anxiety of being stuck in gridlock when you're running late for something important. It's a song about recovering from suicidal thoughts. The irony is that it will make you want to kill yourself.
Her memoir—My Teenage Dream Ended, published by MTV Press—comes out on August 14. In it, Farrah opens up about her relationship with and subsequent death of the father of her child and the emotional and physical abuse she suffered at the hands of her mother (whom she claims choked her). But the real juicy stuff will be the stories about her admitted out-of-control partying with pot, cocaine, and booze after her daughter was born and while she was filming Teen Mom. She says she's clean now, but at least one friend begs to differ, saying Farrah has been abusing Adderall and Xanax. You can check out the first few pages of her book here.
G/O Media may get a commission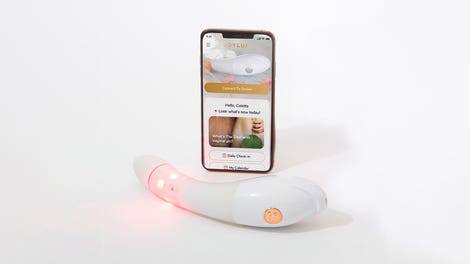 $50 Off
Joylux vFit Gold Device
First Listen: Teen Mom Farrah's Debut Single! [In Touch]
Read The First Chapter Of Farrah Abraham's Book For Free! [MTV]
Teen Mom's Farrah Abraham: 'She Abuses Adderall & Xanax While Chugging Booze,' Says Pal [Radar]