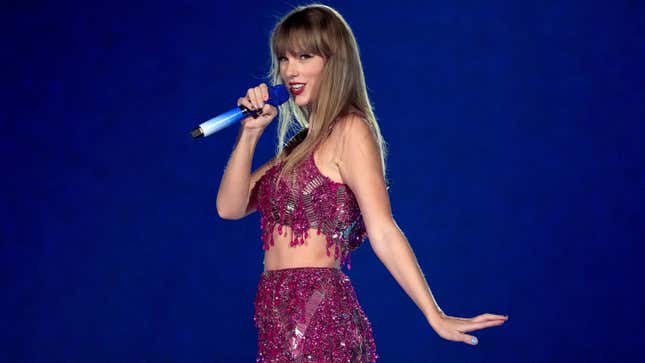 On July 9 the imprint MacMillan will publish an untitled celebrity memoir with the placeholder title "4C Untitled Flatiron Nonfiction Summer 2023." It's currently #22 on Amazon's Best Seller list and #2 on Barnes & Noble's Pre-Order chart. This is because the Easter-Egg-pilled, terminally-online Swifties are convinced Taylor Swift wrote it.

Taylor Swift's Rep Thinks You Need to Calm Down About Her Private Jet
TikTok'r Thickbrunette66 launched this theory over the weekend citing evidence that, admittedly, made my brain shrink a few sizes. For starters, the date of the book's release is July 9th (which is a Sunday and new book releases are typically on Tuesdays. "Taylor last night obviously made the announcement that Speak Now (Taylor's Version) would be available on July 7," she says. "And in parenthesis, she wrote '(just in time for July 9th, iykyk 😆)'" I do not know...but apparently July 9th is a date in the song "Last Kiss" which appears on the album, Speak Now. Also in her announcement, Taylor wrote "Dear Readers" which is likely a reference to the song from Midnights, but Swifties took it as confirmation that she's definitely releasing this book.
Further evidence that this is Taylor's literary debut is that the audiobook is thirteen hours long and "the page count is 544, five plus four plus four is thirteen, and we all know Taylor is obsessed with the number thirteen," Thickbrunette66 says. Again, can't say I knew that—but I would literally lie across train tracks before ever getting into an argument with a Swiftie.
I don't doubt that a large part of her fan base are bookworms, but more than they love reading books...they love to read way too far into not-deep interactions and communications.
According to Variety, the book is confirmed to not be Swift's. The outlet also cited a document purported to be from MacMillan Publishers that described the book as similar to "Flatiron's Matthew Perry memoir … and a little bit to Spare by Prince Harry." Swifties, I hate to tell you this—there is no way Ms. Easter Egg is publishing a tell-all memoir in the style of these two. Her fandom's connection to her is them discovering a 2009 photo of her wearing a necktie, then deciding that means she's attending Wharton Business School.
A lot of bookstores are, however, cashing in on the fanaticism for the time being. Despite the likelihood that it's not Taylor's book, they are encouraging fans to preorder but are offering to fully refund the book should
it not turn out to be Taylor's. Smart business move, as I imagine half of the pre-orderers will be too busy requesting FOIAs on Matt Healy to go through with the refund, making these stores gobs of money.