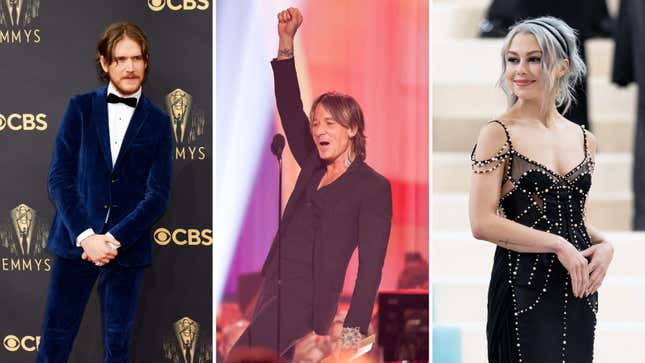 It's official: Mother's Day is over. It's time to give it up for The Fathers—specifically, Keith "Deuxmoi" Urban for appearing to hard launch Phoebe Bridgers and Bo Burnham by accident via TikTok. Thanks, Keith. I come to this place (the internet) for this magic exactly.

On Monday, the country crooner shared a very endearing TikTok meant in gratitude to Taylor Swift for inviting him and Nicole Kidman to The Eras Tour in Philadelphia on Sunday night. The 24-second clip shows the pair swaying and singing along in tandem to "Style" like any other middle-aged couple that still enjoys a semi-regular sex life—that is, until the viewer catches a glimpse of the unmistakable head of silver hair belonging to one Phoebe Bridgers just over Kidman's shoulder. Given she's opened for Swift on several dates of the tour, her presence on the sidelines isn't exactly an unusual sight. However, the very tall man who appears to be standing behind Bridgers is a bit more...delicate.
Alright, I'll just speak now: He looks an awful lot like Bo Burnham, the comedian of which she's been spotted with on more than one occasion since her engagement to Paul Mescal ended in 2022. In fact, it seems the two have known each other for a while. In July 2021, they were seen grabbing lunch. Then, a few months later, Burnham was spotted in the audience at Bridgers' show at the Greek Theatre in Los Angeles, where she sang a cover of his song "That Funny Feeling." Most recently, in March 2023, Bridgers and Burnham were photographed hanging out in New York.
All of the aforementioned could be perceived as fairly innocent. Two people take walks and get lunch and sing each other's songs all the time. In Urban's video, however, the pair look...well, they look like friends who wrap their arms around each other and make out with abandon during their friends' concert surrounded by people with their phones out. No, literally. That's what these two appear to be doing as Urban and Kidman remain totally unaware.
"We had the BEST night !!!" Urban captioned the video. Going to go out on a limb here and say at least two other people had a pretty chill one too. Naturally, the comments on Urban's video are tripling as I type.
"Everyone say thank you to Keith Urban," one user wrote. "This is my multiverse of madness," remarked another. Now, while I've seen Promising Young Woman one too many times and thus am still experiencing a very specific, Burnham-induced PTSD, I get it. A man over six feet who is also moderately funny is a special kind of kryptonite.
A who's who of celebrities—including Jennifer Lawrence and Swift's rumored boyfriend, Matty Healy—were also present at the show. Bridgers and Healy have even performed together during The Eras Tour. Cute!
Selfishly, it's cool to know that two of our most beloved singer-songwriter girlies are just out here cavorting with men I'm certain I'd call at my lowest low. The content's going to make me resurrect my Tumblr, I fear.