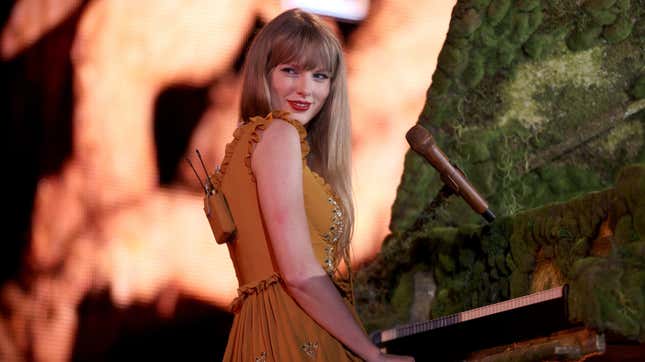 I imagine it was a rather weird weekend to be Taylor Swift. One day, news of your latest break-up is consumed and entered into the seemingly endless cycle of regurgitation by way of the media machine, and very off-the-wall TikToks made by your well-meaning fans. The next, you're simulating blowing up a historic building for your next music video. But, as they say, this is—fortunately—not Swift's first rodeo. In fact, by this point, she owns the rodeo.
Taylor Swift's Rep Thinks You Need to Calm Down About Her Private Jet
In the early hours of Easter Sunday, Swift was spotted filming at the Cunard building in Liverpool alongside actress, Joey King. A series of photographs show an explosion and someone, who appears to be Swift, escaping with a painting under her arm. Per paparazzi on the scene, the vibes were, "boom smash and grab." Intrigue!
Apparently, the shoot had secretly taken place over the last four days, with The Sun reporting that St. George's Hall, another Liverpool landmark, served as a second filming location.
Now, if you're thinking this sounds like some kind of heist, you're onto something. Per the tabloid, Swift is taking a page from The Batman, which happens to feature the same buildings.

"Taylor loves the history of the landmarks and was excited to film somewhere completely different and unexpected," a source said. "She had a break in her touring schedule so decided to use the time to get another video in the bag. She's feeling more creative and inspired than ever."
Some break-ups do tend to agree with a person. And besides, sources have said this one was "not dramatic." However, that's certainly not stopping Swifties from making it so. Just ask this guy. And this one. Her, too.
---