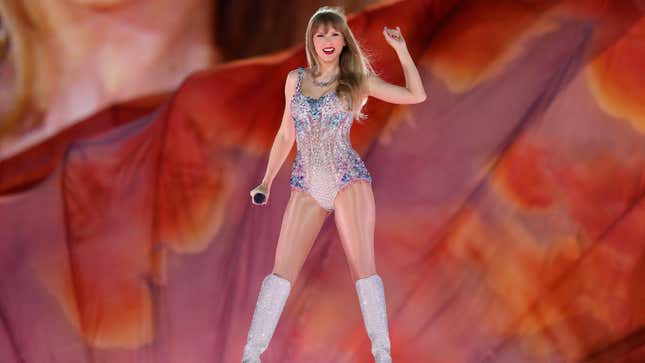 Travel back with me, for a brief moment, to February 27, 2020: Maria Sharapova has announced her retirement from tennis; Donald Trump had just put Mike Pence in charge of the nascent pandemic response; it's 40 degrees in New York City; the moon's in Aries; Mercury's in retrograde; and Taylor Swift releases the music video for "The Man," her latest single off Lover.

Taylor Swift's Rep Thinks You Need to Calm Down About Her Private Jet
And it's filled with Easter eggs—as is everything Swift does—but there's one giant, glowing, promising, Easter egg that really out-easter-eggs them all. There's a quick cameo from Loren Gray, the TikTok star whose fans refer to themselves as (this is important) "angels." And at two minutes and 43 seconds, Gray ROLLS HER DAMN EYES. In the Swiftverse, this all but confirms that "Cruel Summer" will be the next single: "Angels roll their eyes" is one of the lyrics. (I know this probably all sounds insane if you're not a Swiftie but trust me, it's not.) Life is good, the future is bright, and you're raring to cartwheel into summer 2020 screaming "I love you, ain't that the worst thing you ever heard???" until your lungs explode.
Now join me back in the present day, three years later. Covid obviously grounded everything to a halt and Taylor, instead, gave us three new albums, two re-records, and is currently in the midst of her spectacular Eras Tour. And I'm grateful, I am! She's given us more than any fandom deserves but...we still never got the "Cruel Summer" music video. So really, what's one more tiny little thing?!
Of everything Swift's ever released, "Cruel Summer"—the towering, glistening synth-pop anthem about the agony and ecstasy of an anxious summer romance which, I swear to God, before I started taking Wellbutrin was the only thing that soothed my depression—deserved to be a single and, more importantly, a music video.
Meanwhile, on Wednesday, "Cruel Summer" had its biggest streaming day since its August 2019 release, with over 2 million listens. (It hit 2.2 million listens on Friday.) This surge is no doubt being fueled by her (incredible!!!) tour performance of the song, which has allowed a whole new flock of fans, who didn't really listen to Swift before folklore, to discover it. Currently, it's No. 44 on global Spotify and No. 18 on U.S. Spotify, which indicates that it could very well enter the Billboard Hot 100.
So Taylor, here's your moment to release the "Cruel Summer" music video. We don't need it perfect, we don't even need it finished! We just need whatever you have: random clips; behind-the-scenes footage; iPhone videos of you, Jack Antonoff, and St. Vincent writing it; rehearsing it as the tour opener; even just a tour video of it. Hell, I would take a three-minute video of Meredith* staring out a window while you hum it in the background. I just need SOME visuals 😭
As the viral tweet goes, "headphones ain't enough i need the song up my ass." I need the "Cruel Summer" music video injected into my fucking eyeballs. Taylor, PLEASE.

*Meredith is a cat.