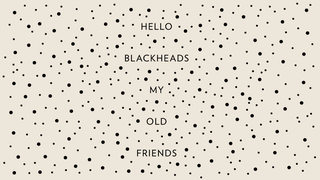 I remember when I first learned about blackheads. I was a not-quite-teenager and I had come to terms with the fact that zits were looming in my future—weathering the years of ruined photos and traumarama school dances (lol/cry @ the idea that I'd ever get asked to a dance) seemed like a rousing, communal rite of…
It'll come as no shock you to learn that boys and girls in these modern-day United States, fed on country-fried steroidal chicken breasts and good ol' American colas, have begun to hit puberty at earlier ages than they ever have before. This might actually be a good thing in some respects, since early adolescence may…
There are few simple pleasures more satisfying than popping a good zit — the pain, the relief, the diversity of outcomes. Of course, when you are home, alone and in your bathroom, the more explosive the zit, the more triumphant you feel at the time of the eruption.
Are you an adult woman with an embarrassing teenager-style acne problem? You're not alone. In fact, adult acne is becoming more and more common among post-teens. But luckily, you're grown up and therefore RICH and so you can afford the wide array of expensive acne treatments available to the modern woman-about-town.…
Justin Bieber is getting $3 million for a two-year deal with Proactiv, partly because, his manager says, "the kid uses it." But also because he's a music — not a TV or movie — star.
I don't know about you, but some of us on staff here are obsessed with blemishes, whether on our own bodies or those of significant others. (That's Rihanna and Chris Brown at left.) Somehow, we discovered that the zit-popping video is its own sub-genre on YouTube: There's clip after stomach-turning clip of some of the…
Have you spent the better part of your days gulping down at least eight glasses of water in hopes that ultra-hydration would transform bad skin into Halle Berry's perfect epidermis? Well, it turns out that the old wives' tale that a lot of water is great for your complexion is just that... a tale. Instead, doctors…
Here's a way to celebrate both Halloween and psychodermatologic disorders: Zit Popper candies, which can be "popped" to reveal a red candy ooze with a "wonderful" strawberry and watermelon flavor...the taste of teen hormones and awkwardness. [Random Good Stuff]
Yo — all those old wives tales you heard about how to make pimples go away with simple household products? All bullshit. In brief: Don't pop them [Damn. -Ed.], put toothpaste on them, but Neosporin on them, or avoid eating fried foods. [Newsweek]