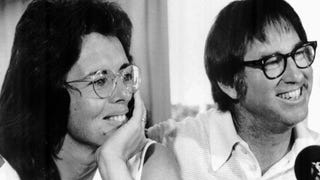 The Battle of the Sexes, the 1973 exhibition tennis match between Billie Jean King and Bobby Riggs that King won, while emotional and historically significant, was, at face value, a shitty moment in women's history. In simply winning that match, King didn't prove anything except that women have to do dumb things to…
Pippa Middleton's latest column for the British political rag the Spectator (she has a column for the British political rag the Spectator) takes on the topic of Wimbledon. "Wimbers is tennis at its best, the grandest of all slams," writes the younger Middleton sister. "Which is why I like to go every year, at least…
The people behind this billboard in Colorado Springs, CO seem to think that the best way to get folks to attend the U.S. Women's Open is with a photo of professional golfer Paula Creamer wearing pink and looking pretty –-two things she's more than allowed to do, but certainly not the only things she is able to do.
Perth, Australia, January 2: Serbian Ana Ivanovic clenches her fist as she defeats Kazakhstans' Yaroslava Shvedova in straight sets on day two of the Hopman Cup team tennis tournament.
Last week, a reader wrote in drawing our attention to the New York Times' cinematic "Women Who Hit Hard" video/gallery, asking, "is it really necessary to back-light their photographs so their unsecured hair flips around, and their heavily-made-up faces shine?"
[Paris, May 26. Image via Getty]
[Sydney, Australia; January 15. Image via Getty]
Serena Williams won the U.S. Open last night and regained the top spot in women's tennis, a place she has not occupied since 2003. (Her opponent, Jelena Jankovic, demonstrated incredible graciousness after her loss by saying, "I lost my No. 1 ranking. It's not fair.") This is Serena's third Open win and her ninth…
Tom Perrotta, a Senior Editor for Tennis Magazine and a tennis critic for The New York Sun laments that there are no female tennis players in the Roger's Cup this week that are worthy of the No. 1 spot. While the Roger's Cup is comprised of "the best of the women's tour" (without the Williams sisters) Perrotta feels…