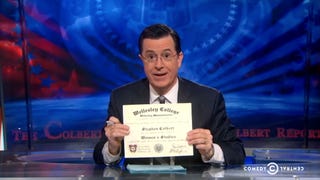 Last night on The Colbert Report, host and self-professed feminist Stephen Colbert recognized — in honor of Women's History Month —"that society has intrinsically linked a woman's value to her outward appearance and thereby undermining her status and strengthening the patriarchal hegemony." For his revelation, Colbert…
In last night's episode of Parks And Recreation, Pawnee's resident simpleton decided to kickstart his career and sample a few courses at the local community college. At April's suggestion, Andy tried an introductory guitar class, but decided it was boring, since he's already a achieved success with his band, Mouse…
Anti-porn activists — that familiar, yet still jarring coalition of women's studies professors and Bush administration vets — briefed interested members of congress on pornography and obscenity yesterday. Is this issue coming back to the agenda?
In this video by Santa Monica College's "Women and Pop Culture" class, students answer questions about their body image struggles. Says one, "No, I don't see many 28-year old lesbians with mohawks, two cats, riding skatesboards in the media." [FeministFatale]
Several of our Canadian readers wrote in recently to bring our attention to a slightly insane piece put forth by the editorial board of the National Post that blames Women's Studies programs for, well, basically everything.
Diane Keaton will star in an HBO comedy series written by Marti Noxon (Mad Men, Grey's) and play "a feminist icon who attempts to reignite the movement by starting a sexually explicit magazine for women." Here's what's interesting:
As if you hadn't yet heard enough about Roy Den Hollander, the lawyer suing Columbia University over its women's studies program and various New York drinking establishments for having ladies nights and the federal government for daring to allow abused foreign wives to stay in this country (that's right — his young…
After the current crop of seniors graduates this spring, women's studies will no longer exist as an autonomous field in Britain, says Angela McRobbie in today's Guardian. She thinks women's studies has disappeared for two main reasons: One, the mercenary job market, where a women's studies degree is not immediately…