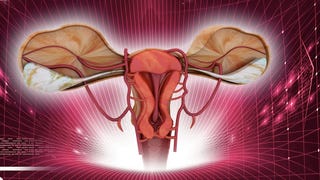 More than a year after kicking around the procedure's viability, doctors at the University of Goteborg in Sweden have performed the first mother-to-daughter uterus transplants, though they're saving all the back-patting for when (or if) the daughters, who began IVF treatment before the surgery, actually conceive.
Annoyed by everyone around you? No problem, just transform your chair into a cozy womb-like tent and climb in to experience serenity like you haven't felt since you were floating inside your mother. That's pretty much what this HUSH chair allows you to do, according to designer Freyja Sewell's website:
Searching the Getty Images archives for pictures of babies, we stumbled upon this gem. It's a scan from a 1650 medical text — The Birth of Mankynde, Other Wyse Named The Womans Booke — in which someone has illustrated all the various ways the mischievous little fetus positions itself before being born. Epic in scope,…
Today in horror stories: a Massachusetts woman allegedly murdered her neighbor and cut the eight-month-old fetus from her womb. Amazingly, the baby girl survived and is in good condition. [AP]
Huang Yijun, a 92-year-old woman from Huangjiaotan, China, went into a hospital looking for a cure for her stomach aches. Doctors found that the cause of her pain wasn't her stomach, but her womb.
More late-breaking studies on the anorexia front are out today, further pointing towards the fact that anorexia is a condition that individuals are chemically-predisposed to. One study, done on twins, reveals that males of opposite-sex pairs of twins were more likely to develop anorexia than male peers who were not…