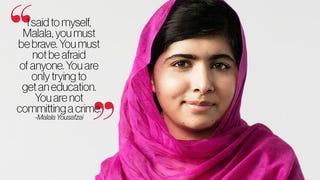 Glamour magazine usually waits until December to announce their 12 Women of the Year, but Editor-in-Chief Cindi Lieve decided to use the buzz surrounding Nobel Peace Prize non-winner Malala Yousafzai to announce ahead of time that she's one of 2013's Glamour Women of the Year. That means that the Malala Fund will get…
After you elected traveling abortion provider Dr. X as Woman of the Year, she got in touch with us to share a message about her work. Here's what she had to say:
That's right, the votes are in — and in a close race, Jezebel's Woman of the Year for 2011 is Dr. X, the anonymous abortion doctor.
The nominations for Jezebel's Woman of the Year are in, and while it was a tough decision, we've managed to narrow the field down to eight frontrunners. Read more about them below, then cast your vote!
In a move that is sure to go down in adorable bear history, the BBC has named a female panda named Sweetie one of its female Faces of the Year. 2011 was either lacking severely in girlchievements or a banner year for lady pandas. So what was Sweetie's glorious achievement that elevated her, a bear, over that of all…
We were uninspired to say the least by French magazine Terrafemina's choice of DSK's wife Anne Sinclair as "Woman of the Year." So we decided to give you the chance to vote for your own. But first, we need a slate of nominees.
Anne Sinclair has won the title of "Woman of the Year" in a French magazine poll, for the accomplishment of standing by her man Dominique Strauss-Kahn through accusations of sexual assault, involvement in a prostitution ring, and general dickish behavior. She beat out Christine Lagarde, who stepped in to head the IMF…
Ingrid Betancourt, the former Colombian presidential candidate who was kidnapped by rebels in 2002, was given the "Woman of the Year 2008" award by World Awards Media in Austria on Sunday. Before the ceremonies, Betancourt held a press conference where she compared her experience to two cases of Austrian women.…