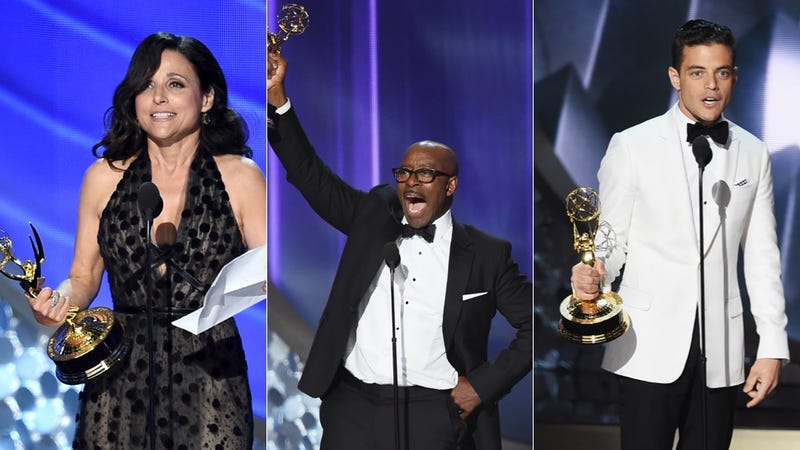 From The People v. O.J. Simpson to Baskets (?) and The Night Manager, this year's Emmys once again made us shamefully aware of the shitload of TV we consume—except for all the shows we're not watching that everyone else seems to know about. Here are the top winners from tonight's show. Full list here.

DJ Arch Jnr is a baby DJ that is quite unlike the "baby" "DJs" who holler at you in bars, because he is actually a baby and also a DJ. He's so good at being both these things—at age three, he's already been DJing for one full year—that he just emerged victorious as the grand-prize winner of South Africa's Got Talent.
That's it for last night's VMAs. Aside from a some good butt-shoulder bumping and a whole lot of Beyoncé and family, the show was fairly safe and (dare I say?) a little boring.
The Seattle I grew up in is not the type of city that wins Super Bowls. I mean that literally (it has never happened before), but also figuratively. Our last great success, grunge, was essentially the monetization of marginalization, of being a miserable white loser. Microsoft is a bunch of nerds proving their worth…
Well, the biggest night in Hollywood has come to an end. It was a fun if not terribly surprise-packed evening. Octavia Spencer continued to charm us all, J. Lo's nipple came close to stealing the show, and Billy Crystal's face even moved in genuine emotion a few times. So in a sense, we were all winners tonight. Now,…

Awards season is in full swing, and tonight the Screen Actors Guild Awards were held. This year's SAG broadcast had some definite highlights—Tina Fey stole Steve Buscemi's wine; Viola Davis gave not one but two moving acceptance speeches; and Kristen Wiig, Melissa McCarthy, and Maya Rudolph introduced the world to a…