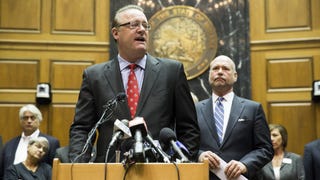 Guess the Satanists are an inspiration across many faiths, because one Wiccan is claiming Indiana's controversial Religious Freedom Restoration Act has implications beyond Christian florists, butchers, bakers and candlestick makers.
By some measures, True Blood is the most popular show on TV. But one group isn't too happy with it: Wiccans.
Last night, the usually-skeptical Lisa Simpson fell in with some Wiccan girls, and while the witch hunt plot is tired, this clip has some choice quotes, like Bart's cruel analysis of the life decisions that lead a woman to Wicca.