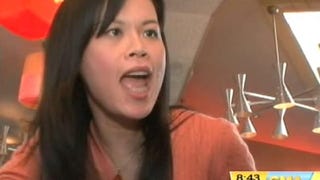 Did you think the whole Tiger Mom controversy was over? Well, always-tasteful ABC show What Would You Do? digs it up and mercilessly flogs its corpse in this segment, in which an actress playing a mean Asian mom berates her daughter as shocked diner patrons look on.
After her victory Sunday in the U.S. Women's Open, Paula Creamer announced plans to work on her bucket list. Step one: go skydiving. Next, buy a Birkin. For those not in the know: "It's like a really crazy bag."
This week's topic on the hidden camera series What Would You Do? was ripped from the headlines: Would people help a 15-year old girl from a polygamist sect who is being forced to marry?
This week's installment of the ABC News semi-journalistic series What Would You Do? focused on college hazing rituals. Apparently, while people will rescue frat guys, sorority girls humiliating each other is just hot.
This week the pseudo-journalistic ABC News series What Would You Do investigates whether a group of middle-aged women would tell their friend not to marry a man young enough to be her son.