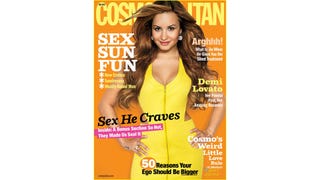 Serenader of skyscrapers and former star of Sonny with a Chance Demi Lovato graces the cover of this month's Cosmopolitan and — what do you know — it looks as though a photoshop shark has taken a big ol' chomp out of her side (fitting as her dress does resemble a sexy '90s wet suit). Of course, Cosmo is no stranger to…
When an outraged reader wrote Maura Kelly objecting to her Marie Claire piece "Should Fatties Get A Room (Even On TV)?" the author sent her a personalized apology.
Three years after noted "Fat-O-Sphere" writer Kate Harding posted a slideshow illustrating how ridiculous the BMI standards are, the NY Times agrees: the body mass index is unreliable.
If you've been keeping an eye on The Fatchelor since the beginning, you've noticed that even though there were ladies crying about being fat, big or "plus-sized" at the start, the four remaining women are large-breasted, hourglass-shaped stunners.