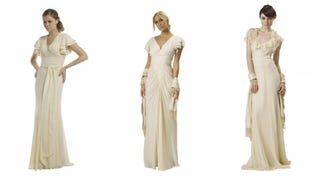 The question that's been weighing on us for months has (possibly) been answered! Yvonne Yorke writes in the The Huffington Post that Kate Middleton's gown was designed by Sophie Cranston, the relatively-unknown creator of the Libélula label. Other news outlets seem to be taking this report more seriously than all the…
"The world has long been fascinated with the majesty and romance of royal weddings, even in Regency and Victorian England. [Romance anthology Royal Weddings]... capture the world's love affair with Will and Kate's real life fairy tale romance, and celebrate our enduring romance with British royalty."
Kate Middleton and Prince William will be wed in April at the Collegiate Church of St Peter at Westminster, aka Westminster Abbey. But it's not just famous Gothic church — it's a place of history and secrets!