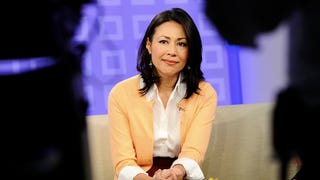 Amid the exhaustive litany of theories (both regular and conspiratorial) for why NBC unceremoniously fired Ann Curry, perhaps one of the most interesting has been supplied by the former Today host herself: people involved with the show didn't like her kaleidoscopic sense of fashion.
In picture after picture, Sandra Lee is like a virgin. Suggests Stacey London, "there's the idea of purity and the fact they aren't married and she's trying to not look like the girlfriend."
"It's the most important day. You want to make a good impression." So says one 12-year-old. She is so right.
I have a love-hate relationship with Stevie Nicks. I mock, but if I said there's something she's worn that I haven't owned or coveted at some point in my life, I'd be lying.
Once I was at a store during a very busy after-Christmas sale. "If I buy this dress for my baby shower in three months and then it doesn't fit, can I return it?" one shopper asked a salesman. No, he said; sales were final. The shopper looked at him like he was crazy. "But I'm pregnant," she said, as if to a simpleton.…
Always-adorable Abigail Breslin has given a video interview to Premiere to promote her new movie, Kit Kittredge: An American Girl. Apparently the preteen actress had her pick of the movie's wardrobe department but what did she choose to take home? The overalls. Young Hollywood: Keeping it real. [Premiere]