New York, Feb 12: The fall 2011 collection of designer Vivienne Tam is modeled during Fashion Week.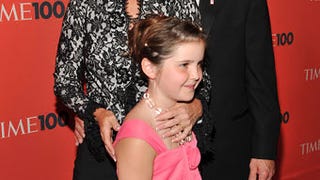 Betty White, Suze Orman and Martha as influential? Sure. I can even sorta see Sarah Palin. But Taylor Swift? The Apatows? Guiliana Ranic? Well, they were all at Time's "100 Most Influential" gala at NYC's Rose Hall.
Lady Gaga wore a custom Prada dress on her Monster Ball tour stop in Dublin.
Olivier Theyskens is holding true to the fundamentals. "When the economy changes, it's not like you want to start eating bad-tasting chocolate," he said, after showing his pre-fall collection for Nina Ricci. [WWD]
Nicole Richie's cheap, chunky jewelry line is actually pretty get-behind-able. [FabSugar]
My Blueberry Nights is a film about love lost and love found starring Jude Law, Natalie Portman, Rachel Weisz, David Strathairn, and, most interestingly, jazz chanteuse Norah Jones. But romance wasn't in the air at the New York screening of the film last night — bad fashion was. Jones paired an old-lady haircut [Ouch!…
Designer Vivienne Westwood is switching party allegiances from the (liberal) Labour to the (conservative) Tory, and will even be the keynote speaker at her new political party's Christmas party. Warns Westwood: "I'm going to take the opportunity to put them right on a few things. They're not going to get what they…
We always dug Vivienne Tam's now-iconic Mao-print dresses. After, who doesn't love a little pinch of the good Chairman in their wardrobe? Which is why we were front and center yesterday for the pre-opening party for Tam's new store in New York's Soho, for which Vivienne hired a flock of models, dressed them in Mao-era…