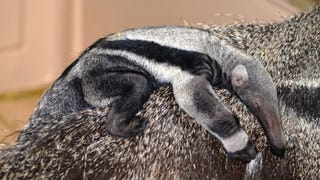 Last month, Armani, a lady anteater at the LEO Zoological Conservation Center, gave birth to little Archie and mystified zoologists/the world, who had taken it upon themselves to cockblock Armani from their male anteater, Alf. Time-wise, Armani would have conceived when Alf was safely locked away in a separate pen.
The Catholic League has its rosary in a knot over a joke and graphic on The Daily Show they say objectifies women, marking the one billionth consecutive time The Catholic League has failed to see the irony in complaining about objectification of women when they can't see women as anything more than walking wombs. So…
[Kiev, January 13. Image via Getty]
• In attempts to improve German-Swiss relations, the Swiss Farmers' Union has created a calendar of half-naked farmer hunks. "We want to show Switzerland in its best light, the countryside and a bit of its culture," says photographer Tina Steinnauer. •
A new book examines the cult of the Virgin. Mary, that is.
In Chile, a prominent fashion designer has outraged conservative groups and the Roman Catholic church by dressing models like the Virgin Mary, with semi-exposed breasts.
• A Staten Island man with the last name Sinatra claims that Tony Danza stalked him in 2005 because he thought he was related to Frank. •
The Blessed Virgin Mary appears! Just in time for Christmas, Playboy has released an issue in Mexico with a woman depicting um, a sexy nude Virgin Mary on the cover. [The Sun]
• A woman from Florida who has cancer, arthritis and no insurance plans to sell an MRI of her brain taken in 2002 that she claims contains an image of the Virgin Mary. • A young woman from Louisiana was arrested for aggravated battery when she stabbed her older boyfriend after they got into an argument because he…
Think Mary looks a little mannish in this painting by Raphael? You're not alone — in an interview in Sunday's Washington Post, feminist art historian Mary Garrard points out that Rafael used a male model for the Virgin. She also argues that in taking masculinized form, Mary "loses her maternity — birth-giving, the one…
The church of Notre-Dame de la Daurade in Toulouse, France is seeking designer apparel for the black virgin statue it has housed since the fifth century. "Our black virgin has always been dressed by benefactors from the city or the region. This time, we asked ourselves if the top global designers, most of them French,…