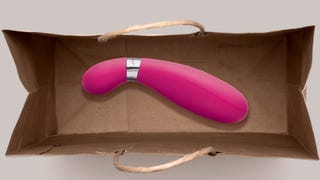 What if buying a vibrator were as commonplace and uneventful as popping into the Apple store for an iPod or buying a juicer from Williams-Sonoma? That's exactly what Ethan Imboden, founder of the company Jimmyjane is aiming for, and he's well on his way to achieving it. For nearly a decade, he's been a pioneer in…
The Duet, which is being called the iPod of vibrators, costs $149 and is charged via USB connection. Michael Topolovac, co-creator of the device, tells The Daily Beast: "It's not just about an orgasm It's about, 'How do I feel when I buy this object'? 'How does it come to me'? 'How do I travel when with it'? 'How do I…

When one thinks of a devout religious couple in bed together — as one so often does — giant, throbbing dildos and risqué lingerie aren't usually part of the picture. But that's about to change, thanks to a growing number of websites that have started selling religion-approved sex toys. These smart God-trepeneurs have…
Folks expect a certain kind of behavior when your name is David "SexToy Dave" Levine. And so Levine, the CEO of a leading Internet adult product distributor, is leading a team that will launch the first vibrator into space.
We all chuckled about Carolee Bildsten attacking a cop with a sex toy, but there's an unfunny explanation. Bildsten, who's in AA now, says she'd heard a local cop was sexually assaulting women and grabbed the first "weapon" she saw.
If you'd like to get off without simultaneously fucking the earth, check out the Solar Bullet. There's also a light at the end, so it doubles as the world's smelliest flashlight.
I didn't mean to show you another sex toy so soon after yesterday's vibrator-in-a-lamp, but this one has another novel twist. Made To Pleasure lets you custom-design your own vibrator to suit whatever your "needs". [MTP via Dezeen]
Pamela Madsen is a sex educator, which she offers as the explanation for why she gave her octogenarian mother a vibrator for her birthday.
"According to the first academic, peer-reviewed studies of vibrator use, it is nearly as common an appliance in American households as the drip coffee maker or toaster oven." [NY Times, EurekAlert]
Girl Next Door star Kendra Wilkinson: "I'm 22 and still have my whole sex life ahead of me. I still have a lot of sex years ahead of me. But all girls need a vibrator!" In other words, sex with Hef is barely mildly satisfying, despite the existence of Viagra. [Monsters & Critcs]
National Orgasm Week kicks off in England today. And while the celebration is pretty much just a marketing gimmick by the week's sponsor, sex toy and clothier Ann Summers, it's still cool that an entire seven days is dedicated to women "getting there." In observance of the week, British rag The Sun published some…