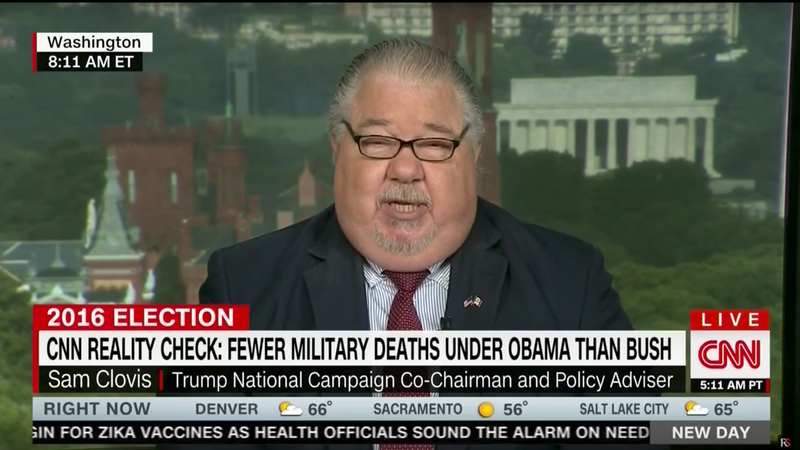 CNN has unearthed an interview in which Sam Clovis, the potato sack Trump nominated to head science research within the Department of Agriculture, is sharing his thoughts on homosexuality. Surprise: they are very, very bad.
Back in July, it was reported that Donald Trump had nominated yet another man plucked straight from this musical number in Pocahontas for an important job that he is not remotely qualified for. This one's name is Sam Clovis, a climate change denier and non-scientist up for the USDA's "chief scientist" post, which…
In yet another dreary sign of the Florida-fication of the entire country, the Guardian reports that staff at the U.S. Department of Agriculture (USDA) have been instructed not to use the term "climate change" in the course of work.
The United States Department of Agriculture's research division studies matters such as nutrition, food distribution, and climate change, and, according to the 2008 Farm Bill, is meant to be helmed by a "chief scientist" chosen "from among distinguished scientists."

When measuring the true dimensions of the current GOP's monstrousness, we can't just consider how House Republicans' tantrum-throwing government shutdown affects the human Americans standing in line at the passport agency, staring hopelessly into a faded travel poster for Jamaica. Who cares about people, really? …
The USDA announced today that it found a case of mad cow disease in a poor cow in California. Yikes. It is the first case of the dreaded disease to be seen here in six years, and while it sounds scary as shit, authorities say there's no reason to be alarmed because the U.S. food supply is not in danger. So keep…
Remember pink slime? That disgusting neon tube of "beef" that it turns out was in all of our Big Macs and cafeteria burgers and other ground beef? Well, thank goodness, it's fast becoming a thing of the past. After McDonald's and other fast food places banned it from their burgers and then the USDA decided schools…
Fired USDA official Shirley Sherrod has turned down Agriculture Secretary Tom Vilsack's offer of another job. However, she doesn't rule out helping the department in the future.