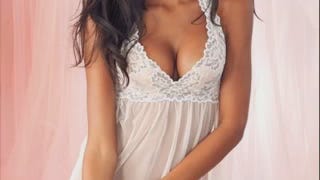 Victoria's Secret's "Sexy Little Bride" line is confusing: is it bridal lingerie, or some kind of kinky bride costume? Or both? The copy doesn't help: "I do Sexy! Who will you be tonight? Sexy little fantasies: There's one for every sexy you." All we know is, the juxtaposition of the veil and the lingerie is kind of…
We wish we could say we believed this line of "Sexy Little Things" (found in "Sleep and Lounge") had anything to do with Halloween. Click to enlarge for the full experience. Assuming you'd even want that.
"A series of magnets scientifically arranged form minute batteries, recharging the blood with magnetism, without which life cannot exist, furnishing a wonderful remedy for Nervousness, General Debility, Indigestion, Rheumatism and Paralysis, the effect being exhilarating to the Wearer." [Vintage_Ads]
Allen Gant invented pantyhose because his pregnant wife didn't feel like bothering with garterbelts. "It was wonderful. Most people my age loved them from the very beginning and couldn't wait to get a hold of them," she says. [Smithsonian]
A new survey finds that the average woman washes her bras only six times per year. What? It's not like we're talking about panties here. [Daily Express]
Fascinating response on Muslimah Media Watch to the "Syrian lingerie" media blitz, which, says the author, confuses "sexy" with "sexuality." But...we just want everyone to have nice bras!