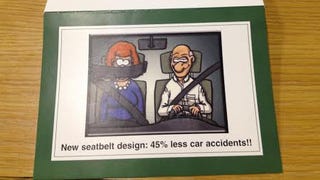 Do you need some legal advice, are 100 years old, and wish that women would fucking shut their stupid hag mouths for once? WELL, GREAT NEWS. The law firm of The Edelsteins, Faegenburg & Brown LLP might be right up your alley.
CBS's How I Met Your Mother has finally, finally allowed Ted to meet the mother of his children, as the final season of the show wraps up. That's just in time to announce that they might be doing a spin-off "that would follow a woman on a similar quest to find the father of her children," reports The Hollywood…
The literary world was rocked — ROCKED — this weekend when author Helen Fielding released excerpts from her newest Bridget Jones novel Mad About the Boy to reveal that Mark Darcy — the best/creepiest Colin Firth homage to actually eventually be played by Colin Firth — is now dead.
One of the most frustrating things about being a woman who cares about pop culture is that pop culture almost never has any goddamn women in it. I mean, yeah, there are lady-shaped thingies who move and talk and have stuff done to them, but the dearth of female directors and writers (and men who know how to credibly…
For as long as luxury companies have been selling fragrances, there have been ads that feature larger-than-life bottles of the stuff. The whole is the woman tiny or is the perfume really big? question never gets old, apparently! It's like a bunch of art directors all studied the Daughters of Edward Darley Boit and…
It was only a matter of time before the genius that is TV Tropes was rendered in graphical form. Now this handy chart lays out such "elements" of storytelling as the "jerk with a heart of gold" and "jumping the shark" — as well as more unusual ones like "epileptic trees." Use the chart to make your own fictional…