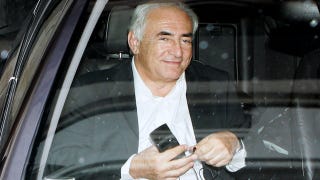 Oh, that's fine then: Dominique Strauss-Kahn told French police he was just trying to kiss writer Tristiane Banon, who has accused him of attempted rape. A source familiar with the investigation told a French magazine,
French writer Tristiane Banon accused Dominique Strauss-Kahn of sexually assaulting her — and now her mother Anne Mansouret says she also had an encounter with the ex-IMF chief. She says they had "consensual but clearly brutal sex," and "describes DSK as a predator who isn't looking to please but to take, and behaves…
A lawyer for Dominique Strauss-Kahn's accuser is looking in France for other women the ex-IMF chief may have assaulted or harassed. Journalist Tristiane Banon, who accused Strauss-Kahn of violently assaulting her in 2002, won't be among them.