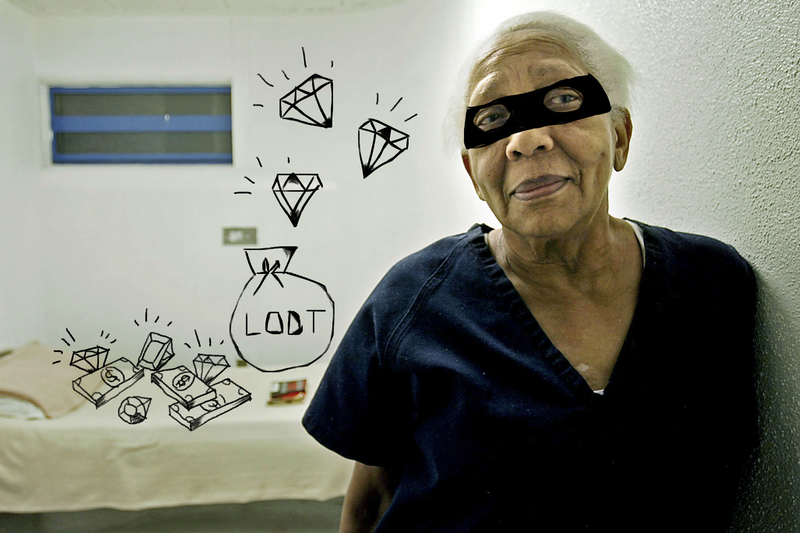 Legendary jewel thief Doris Payne was arrested Wednesday in what I can only assume is a fake out in furtherance of one last heist—you know, the big one, before she retires.

On Friday afternoon, five men entered a Duane Reade in the TriBeCa neighborhood of Manhattan, made a beeline to the frozen aisle (probably), and shoved 226 pints of Häagen-Dazs and 24 tubs of Delish ice cream into their knapsacks. What a dream!
It is fun and hip to say "it me" about articles and photos — the implicit humor is that, of course, you are not that fat baby, or those lazy cats, or that mailbox brimming with letters. You are a normal adult human. I do it maybe too much. When I brought the following two news items to the attention of Jezebel's…
Here is a heart-warming tale of how writing a very angry letter and taping it to a public amenity can restore your faith in the good of society. Some horrible bike thief stole the $700 bike of Olgi Freyre, a 19-year-old part-time student in Chicago, while she was at work, just trying to support herself.
This might just be the Grand Guignol of petty thief dumbassery. As is wont to happen, a Brooklyn man named Nadal Nirenberg lost his phone in a cab at 4 AM on New Year's Eve. The next day, Nirinberg saw that whoever grabbed it later was using his OK Cupid profile (linked to his iPhone) to look for dates. So he set up a…
A pair of men who stole cookie money from a Houston area Girl Scout troop got a little more than they bargained for when one of the girls punched one cookie thief in the face and another girl held onto the car as it drove away. The perps are still at large, but they best move far, far away and change their names lest…
Today in unfortunate news about criminals who happen to be homosexual women we have the case of Harley Rose Gifford and Britney Singleton, both 19, who burglarized 29 homes in Upper Darby, Pennsylvania this summer. Oh, also — Britney and Harley are "lesbian lovers." Not "girlfriends" or "a couple" or "dating" — I…
A flight attendant from Air France has been arrested for stealing jewelry, credit cards, and money from sleeping travelers mid-flight. The stewardess, identified only as Lucie R., has confessed to robbing 27 passengers.
Meet Doris Payne. She is 77 years old, and for the last fifty years, she has been a jewel thief. She stole her first diamond at age 27, and she never used a gun. Instead, charm and wardrobe were her weapons. "I knew how to dress," says Ms. Payne. "I never did like ruffles and frills. I just like a simple-cut fine…