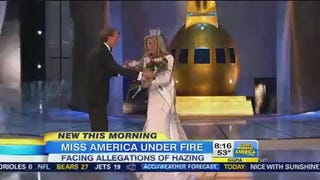 Yesterday, we reported that 2015 Miss America Kira Kazantsev was kicked out of her sorority for abusively hazing pledges. Today, Good Morning America, the marquee morning show on ABC (the network that airs the Miss America pageant), had Kazantsev on to clarify what happened.
Sometimes a girl has to pick between two different, totally-not-bad-at-all things, and she has to make that decision at a point in her life when every tribulation leading up to that moment has basically been prom hair and pillow fights and shopping mall foot fatigue and Psych 101, but because her life hasn't been…
Miss America is out to prove that it's a force for positivity in girls' lives...by introducing a line of children's clothes, "Little Miss America." Talk about a "vision of femininity":
Rima Fakih, the first Arab-American Miss USA, won last night after saying birth control should be covered by insurance. Asked how she felt about winning, she said, "Ask me after I've had a pizza."
Held last night in Las Vegas in preparation for the show on Saturday, the Miss America prelims featured glitter, animal prints, and smiles so wide they just had to hurt.
"The first cut is crucial — pinch the fur at the hind legs and cut straight into that meaty area there. Slice down and out real quick and just push your rat inside out." [LA Times]
This year's Miss America pageant is a "battle of the biceps," says the Daily Mail. Some contestants are ripped. But with costumes and gowns and flutes, they're also hilarious. Gallery after the jump.