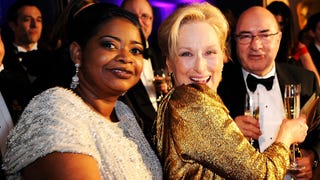 Okay, so the Oscars happened — or, as I've taken to calling them, Hollywood Gets One of Its Ribs Removed So It Can Suck Its Own Dick for Eight Hours: The Movie — and, as you've probably heard, they were very, very dull. Wet paint was bored. String cheese had to go lie down. If you opted to spend your evening watching…
Yvette Nicole Brown and Sherri Shepherd were on Watch What Happens Live last night, and Andy Cohen took a call from a viewer named Ashley, in Milwaukee. Ashley said to Yvette, "I'm so proud of you, by the way... What was it like working on the movie The Help?" Uh, whoops. There was a nanosecond of silence. "Oh!"…
As per lonelygoatherd's request, here's "a porcupine and a bumblebee leaving a movie theater and sharing their opinions of The Help." The porcupine's take sort of lacks nuance, but at least he understands the basic issues at play.
Some people came away from The Help (book or movie) troubled by its depiction of a difficult era in history, and others defended its perspective. But maybe these camps missed the point, and The Help is really about how good the food made by those underpaid domestics was, including a chocolate pie central to the plot…
Even if you have mixed feelings about The Help, there's a good reason to applaud the film's success. Supposedly, it's confirmed the box office viability of a radical new genre: "Chick flicks" with a bit of substance.
Oscar winner Hattie McDaniel famously said she would rather get paid $700 a week for playing a maid than $7 for being one, after civil rights groups criticized the portrayal of black characters in Gone With The Wind. Seventy years later, The Help and Viola Davis are enmeshed in a similar controversy.
I've been around for the better part of three decades, and not ONCE has a white person provided me with some sort of salvation. I feel shortchanged. There was no teacher who saw something in me, no employer who defended my rights and no white family who kindly took me into their home. To be fair, I have never…
The 2009 best-selling book The Help — written by Kathryn Stockett — is set in the 1960s and focuses on the relationships between three people: a young white woman, Skeeter, who aspires to be a writer, and two black maids, Aibileen and Minny. According to ABC News, the fictional character Aibileen Clark speaks in…
[New York, August 26. Image via INF]