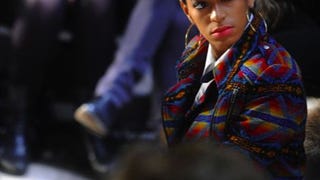 Claire Danes and her spooky, enhanced spiderleg eyelashes will soon be staring down at you from ads for Latisse, the eyelash-growing goop that has this totally minor side effect where sometimes it permanently changes a user's eye color. [AOL]
Last night, David Letterman revealed that a CBS News employee is accused of trying to extort $2 million from him because he had sexual relationship with female employees.
Australian Vogue's September cover is out, and it features a stunning illustration of Cate Blanchett. [WWD]
One of the hazards of dating a rock star: When, mid-fight, you want to throw some of his stuff into a pool, there's a slight risk that he might have unreleased, non-backed-up new songs among his personal effects. [Mirror]
Everyone has a theory about what the recession will "mean" for fashion. Wanna hear often correct New York Times critic Cathy Horyn's? Oh yes you do!
Before digesting the latest round of layoffs, garment worker intimidation, stupidly expensive luxury crap, and magazine turmoil, say a hearty Good mornin' to David Beckham in his fancy new Armani underwear ad. Hello David. [People]
Freida Pinto and Evangeline Lilly are new faces of L'Oreal. To mark the occasion, Lilly said she's proud "to represent a brand whose ambition is to...contribute to the fulfilment [sic] and well-being of everyone." [PRNewswire]
This Los Angeles man paid $12,000 for two limited-edition prints by Japanese artist Takashi Murakami. But what he actually bought was off-cuts of fabric left over from the Louis Vuitton factory, stretched and mounted.
Last night the Brooklyn Museum kicked off its new Louis Vuitton-sponsored exhibit on artist Takashi Murakami, who made a name for himself Stateside for putting whimsical art all over old-school Vuitton handbags. At the event: Once blue-haired Louis Vuitton creative director Marc Jacobs (left) who, a la Amy Winehouse,…