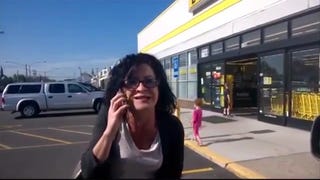 If you've been on the internet at all this morning — and you have, we all have — you're likely already familiar with the charming Janelle Ambrosia, the racist exotic dancer who hurled racial epithets at a black man for daring to start his car near her children. And now that Ambrosia's video is spreading like wildfire,…
If you took The Full Monty, added in a little Coyote Ugly and Office Space, cast Channing Tatum's wife, and hired the director of Wayne's World, you'd get whatever Balls To The Wall is.
After repeatedly describing her past work on the pole as "burlesque dancing" on The Real Housewives of New Jersey, there's no denying that Danielle Staub is straight-up stripping-topless and bottomless-for Scores. Staub has signed a three-year deal with the infamous NYC gentleman's club, involving one live appearance…
Uh, really? A Texas club that employed a 14-year-old stripper is suing the girl, saying she claimed to be 22. It is also suing the man police say kidnapped the girl, assaulted her, and forced her to perform. [Houston Chronicle]
The woman who allegedly doused an exotic dancer in flammable liquid and set her on fire outside a L.A. club has been charged with mayhem and torture. The victim remains hospitalized in critical condition. [MSNBC]
A woman and a man doused an exotic dancer with flammable liquid and set her on fire outside the L.A. club where she works on Thursday morning, burning more than 60 percent of her body.