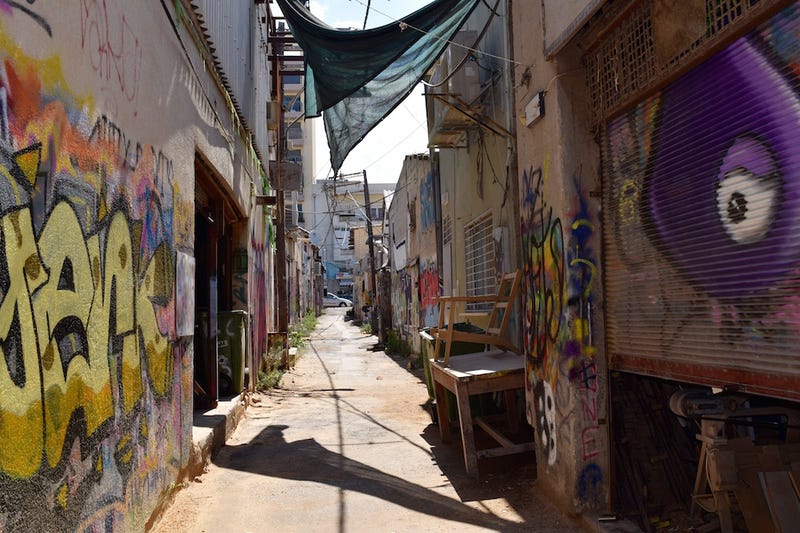 On the second day of my AIFL-sponsored press delegation trip, we went on a graffiti tour of Florentin, the trendy South Tel Aviv neighborhood that was #2 on Thrillist's "The 10 Most Hipster Neighborhoods On Earth" list last summer. Like many neighborhoods of similar status, Florentin is bordered by somewhat darker …
Last week, right before the blizzard, the artist known as Olek covered the huge statue of a bull on Wall Street in New York with a crocheted cozy.
Here's an act of civic protest we can get behind: emblazoning the "you can never be too thin" message of a Pretzel Crisps ad with information about risks of anorexia, and the names and faces of some of its casualties.
[Milan, July 12. Street Art artist Senso paints during the Street Art Exhibition held at Museo Della Scienza e Della Tecnologia. Image via Getty]
Knitted wool tubes in bright colors have started to appear on signposts and trees in Sydney, Australia, the work of street artist Denise Litchfield. It is part of a growing global movement of guerrilla knitters.
A 26-year-old artist and rape survivor has created a sign for the Williamsburg, Brooklyn block where she was assaulted. The artist, who spoke to ArtCal via email, has chosen to remain anonymous because her case is still in court. She says she hopes rapists who see the sign will think about the possibility of their…