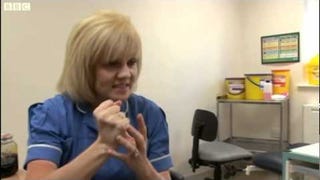 This week BBC3's answer to Teen Mom—Misbehaving Mums To Be—featured a 20-year-old who said smoking 3500 cigarettes while pregnant made her baby stronger. Smoking Mom is the new Botox Mom!
Parents often name their children aspirationally, bestowing upon their offspring names that they hope will help their offspring succeed. The mother of Great Britain's Destinee Superstar really brought out the big guns.
The self-anointed Mama Grizzly is reportedly "desperate" and willing to do "whatever it takes" to assure a Palin takes home the Dancing With The Stars disco ball trophy. America, it's time to start feeling sorry for Bristol Palin.
Lynne Spears was on Today this morning discussing her new book Through the Storm, in which she talks about raising her kids under an intense spotlight. Predictably, during her interview, a lot of her answers to uncomfortable questions involved "prayer," "praying," and "God." As far as Britney's disastrous 2007 VMAs,…
It's hard to believe Dina Lohan's claims that this whole showbiz thing is all about her kids and what they want out of life, when she seems to behave to the contrary on Living Lohan. On last night's episode, Dina met with a potential choreographer for Ali, and somehow this meeting turned into Dina dancing with the…
Despite Dina Lohan's insistence that she "can't stop" Ali from trying to "chase her dream" of being a hip hop artist (it's OK, you can laugh at that part), or can't protect her from "evil" reporters, she invited Access Hollywood into her home to interview her 14-year-old child, even though the kid had nothing in…
Dina Lohan's reasons for wanting to do a reality show — to show the real Lohans, and dispel tabloid rumors about the family — always seemed really weird to me, because in most cases, reality TV participants tend to put off, not endear viewers to them. But mostly it's weird because last night's episode of Living Lohan…
Dina and Ali Lohan have been doing the press rounds for their new reality show Living Lohan premiering this weekend, and last night they were on Showbiz Tonight. The two got all defensive and rude in response to very valid questions about how Dina will keep Ali away from the same path Lindsay traveled down and whether…
Rocky and Hayley were by far the best team on I Know My Kid's A Star, even though Hayley had no particular talent other than being beautiful. Rocky's borderline psychotic outbursts, however, plus her mysterious weave, mocking of other children, and misanthropic nature were both entertaining and, at times, endearing.…