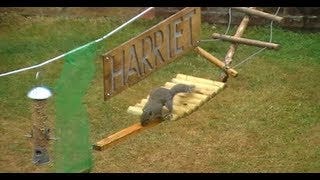 Apparently Youtube user Steve Barley had made an obstacle course for squirrels before, but this is some next level shit. He's rigged up the "Triple Squirrel Assault Course" out of everyday items like an ironing board and a sink plunger. Honestly, I wish that thing was human size because it looks way too fun. Anyway,…
Supposedly the Great Recession has led to an increase in squirrel consumption. If true, it is heartbreaking (someone should invent a tofu version of squirrel). But maybe it isn't actually happening? Have you spotted any squirrel hunters lately?
The response to our Worst Pickup Lines contest has been overwhelming — the dudes (and ladies) of the world have some seriously bizarro game. After the jump, the winners of our fabulous prizes, and eight teeth-licking, ass-smelling, incest-porn-discussing honorable mentions.
[London, May 19. Image via WENN]
Perhaps we should all read ladymags with such expressions of contemptuous incredulity as British journalist Tanya Gold displays here. Actually, just read her piece in today's Guardian in which Gold replicates Cathy Alter's much-discussed project of living by the advice of women's magazines. Of course, Alter was…
The past week of lady talk shows was pretty grim, and not the wacky romp of group vagina smiles or porn convos that we've grown used to. (For example Oprah had an episode all about a woman whose husband offed himself and left her a million dollars in debt on purpose, just to be a jerk.) Tyra had an episode dedicated…