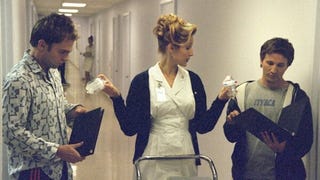 Sperm donors have historically often had little more than a pump and dump relationship with the children they sire, if you will excuse the phrase; for many years, it was unheard of that they would become involved with their offspring. But the upcoming Vince Vaughn movie, Delivery Man, has made a clear impact on a…
While our manufacturing sector's kind of in the toilet, mining is giving people cancer and causing earthquakes, and our tech industry is running out of ideas for one-button devices to sell to yuppies, at least one sector of the American economy is running full steam — or rather, full balls — ahead: the sperm…
The homepage of Sperm Donors Australia gives dudes one really good reason for sharing their seed with the world. According to Reddit, this is a stock image of a man giving the thumbs up, so we really don't know what he was so excited about. But, there's still a good chance he was thinking about sperm donation when…
The two men charged with selling unlicensed sperm to British women have received a nine month jail term — but the sentence is suspended for two years. This means the black-market spunk merchants could potentially avoid jail entirely.
A conservative group is pushing to make sperm donation as closely regulated as adoption — because, they claim, children of sperm donors face problems down the road. But do they have other motivations?
Australia decreeing that sperm donors must be identifiable to their future offspring has meant a severe sperm shortage in that country, as well as expensive imports from the U.S. Luckily, Stephen Colbert wants to do his part.


Would you like your baby to look like Brad Pitt, or perhaps, Seth Rogen? A Southern California sperm bank tells clients which celebrity the anonymous donors most resemble because they say it's more helpful than just reading confusing stats. [MSNBC]
Sperm banks and fertility clinics report a major upswing in potential donors since the economy tanked. In addition to women, one clinic director says "she also has gotten calls from at least 100 men inquiring about donating their 'eggs.'" [USAT]
Ed Houben of the Netherlands has gained a reputation as Europe's most passionate sperm donor for fathering 46 children without having sex. Houben donated at an IVF clinic at first, but had to stop once he reached his quota of 25 gifts. Now people find him on the internet and through word of mouth. Houben has traveled…