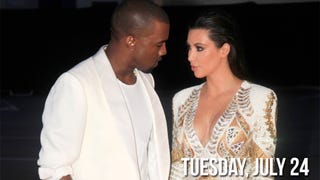 Picture, if you will, Kanye West swimming in a vault of precious stones a la Scrooge McDuck; after girlfriend Kim Kardashian's divorce from Kris Humphries is finalized, 'Ye apparently plans to propose with a one-of-a-kind ring made from his late mom Donda's personal jewelry collection. He visited a private jeweler…
Soleil Moon Frye gets paid $5,850 each time she spews another 140 characters, according to IZEA's Sponsored Tweets. Just don't tell Lindsay Lohan — she's only earning $2,985 for each of her online musings.
New York Magazine talks about the new trend in tween clothes: "adult-girl fashion," in which, inspired by girls like Noah Cyrus and Lourdes Leon, pre-teens dress like tiny women. Which prompted us to look back at tween fashion!
OMG. This may make you hyperventilate: Mad Men's Jon Hamm is in talks to do a multi-episode arc on 30 Rock. The man known as Don Draper could be Liz Lemon's neighbor and a potential love interest for Tina Fey's character. Breathe. Just breathe. [EW]
The ads for the Ashton Kusher-Cameron Diaz comedy What Happens in Vegas boast that the film is "the first big comedy of the summer." Based on these same ads, however, I'm pretty sure that it's the first big-budget sucky movie of the summer. Confirming my theory are the sartorial choices made by those in attendance at…
Halle Berry's baby has 3 nurseries in different homes, all done in all whites, neutrals and organics. Cost? $60K. [Rush & Molloy]