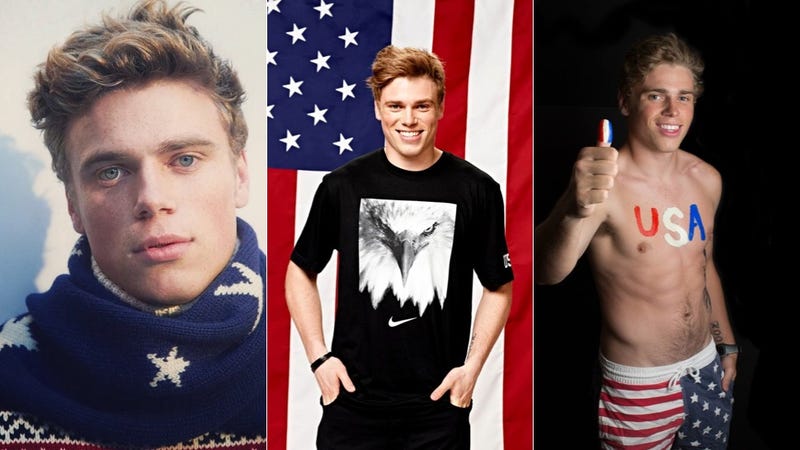 Last week, American freestyle skier Gus Kenworthy won a silver medal in the slopestyle event at the Sochi Olympics. The following day, he won our hearts by announcing plans to adopt a family of stray puppies he found living near an Olympic media center. The next thing Gus Kenworthy should win? President. Because on…
The Russian government doesn't seem to care about bad press – or maybe they think the Opening Ceremony went so well it doesn't matter what they do. The Kremlin has tightened restrictions on a law passed in 2013 that made it illegal for same sex couples adopt Russian children.
Russian speed skater Olga Graf was so excited after she won bronze in the 3,000-meter... [how excited was she?] Well, she was so excited that she started to unzip her bodysuit on the ice, forgetting for a brief moment that she wasn't wearing anything underneath. She told the AP, "I totally forgot [that she wasn't…
So far, the Sochi Olympics have been Russia as fuck. Last night, Bob Costas apologetically explained that he was wearing glasses because when he arrived in Sochi he contracted a mysterious eye infection. Then, he was forced to say "Pussy Riot," which was hilarious. But today, toward the end of the Games' opening…
Russian Olympic snowboarder Alexey Sobolev knows how to get a girlfriend keep the public interested. On Thursday, he competed with a board that featured a woman in a red ski mask – the same outfit members of Pussy Riot wore when they were arrested last year in Moscow.
In the ramp up to the 2014 Sochi Olympics, we can anticipate an influx of emotionally manipulative schmaltz designed to sell product, but this series of ads by Proctor & Gamble has somehow managed to overcome all of my anti-schmaltz defense mechanisms and made me cry like a toddler who just experienced her first ice…
Conundrum: 2014 Winter Olympics host country Russia just enacted an ass-backward anti-gay law that isn't popular in countries led by less awful people. How's a self-respecting world leader to give the government the finger while still supporting their home country's athletes? By sending an Olympic delegation chock…
Next year, the world's fanciest spandex and the statesmen who they may or may not have voted for will gather in Sochi, Russia to compete in and watch the 2014 Winter Olympic Games. But leaders of two historical Winter Olympian powerhouses won't be there — and they haven't specified why. Any chance it rhymes with…
It's a classic love story — boy meets girl. Girl gets pregnant. Boy and Girl break up. Girl moves to a different state for college. Boy sues Girl for custody of the fetus. Court rules Fetus belongs with Boy. Girl forced to give Fetus to Boy and Boy's New Wife. Boy is Olympic gold medalist Bode Miller. Classic. Love.…
Today Ralph Lauren unveiled the Team USA uniforms for the Sochi Winter Olympics, and every item is made in the United States.
Russia's an ass-backward law outlawing "gay propaganda" essentially makes being openly gay (or openly supporting gay people) a punishable offense in that vodka soaked clusterfuck of dashcams we call a diplomatic frenemy. Unfortunately, Russia is hosting the Winter Olympics this February. Double unfortunately, their…