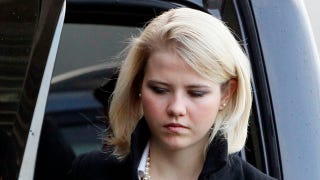 Even the worst criminals are entitled to legal representation, but do attorneys have to make offensive comments while defending them? Recently, Nancy Garrido's defense lawyer argued that she should be able to relax on the beach someday, and now the attorney representing Elizabeth Smart's kidnapper says the court…
Brian David Mitchell, Elizabeth Smart's alleged kidnapper and rapist, dropped to the floor and began to wail in court today just before jurors were brought in. Mitchell was rushed to the hospital, and it seems he suffered a seizure.
Brian David Mitchell's trial started today, seven years after he allegedly kidnapped and raped Elizabeth Smart. Smart will return from a Mormon mission in Paris to testify against Mitchell, who was ejected from court today for singing during jury selection.
In a competency hearing for her kidnapper, Brian David Mitchell, Elizabeth Smart publicly revealed details of her captivity for the first time. She says, "There wasn't an actual 24-hour time period he wasn't able to rape me."
It turns out that Meghan McCain and Barack Obama have something in common today: they both think that the Republican focus on abstinence-only education is completely idiotic.