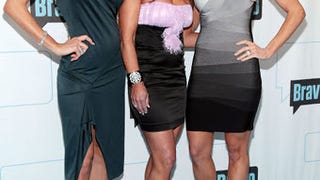 According to the latest census estimates, multiracial people are the fastest-growing demographic group in the U.S.
Essence magazine held a "Smart Beauty" panel last week, and WWD has the sad, tragic details:
In 1970, Velma Stokley-Flournoy created the Miss Black Sacramento pageant. "I saw a pageant on television and there weren't any blacks involved," she explains. And thirty-eight years later, the pageant is still going strong:
Hailey Woldt is part of an anthropological project, led by American University Islamic studies professor Akbar Ahmed, to document what it is to be Muslim in America after September 11th. Her assignment: wear an abaya.
Remember how earlier today we were obsessing about pimples and we wondered why Dr. Oz and Oprah haven't covered it yet? Well, right as we were posting that, today's episode of Oprah aired, during which Dr. Oz was discussing "the science of beauty." And part of the discussion included acne! (Maybe Oprah really is…
I don't know about you, but some of us on staff here are obsessed with blemishes, whether on our own bodies or those of significant others. (That's Rihanna and Chris Brown at left.) Somehow, we discovered that the zit-popping video is its own sub-genre on YouTube: There's clip after stomach-turning clip of some of the…
Over the weekend, MTV aired True Life: I Have Acne a documentary featuring young adults with severe cystic acne, and the steps they are taking to treat it. Take Lily. She's a 21-year-old aspiring model/actress, but her skin has been holding her back from moving forward with her career. She's been grappling with the…
We've discussed skin-lightening in India before, but, according to The Independent, new skin-whitening commercials are igniting a "race row" in that country. The commercials feature three of Bollywood's biggest stars in a soap opera-style love triangle. The dark chick is dissed for a lighter-skinned woman, so she…
Loathing your dark skin isn't just for women. A new product in India, Fair and Handsome, is just one of the many skin-lightening creams that are, according to the Washington Post, "exploding in popularity." In fact, though these products are nothing new for the ladies, the mens' market has grown 150%. India has a long…