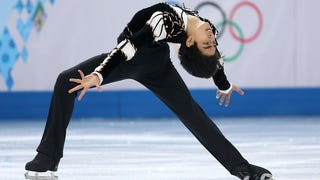 He's also the first Southeast Asian figure skater to represent at the Winter Olympics, is only 17 years old, and benefits from a feel-good story about taking up skating after asthma attacks disqualified him from competing in other sports, as well as relying on donations from friends and family to be able to afford…
This morning on Today, Johnny Weir announced that he has officially retired from competitive skating and will not participate in a third Olympic Games. "I get old," he offered up as an explaination. Weir had an additional announcement: He will be joining NBC as an "expert figure skating analyst" — doing commentary on…
Fifteen-year-old skater Brianna Beristain is slated to compete in the prestigious Girls Ride Organization competition later this month. But, says her friend Triston Harris,
Beijing, December 12: Adelina Sotnikova of Russia performs during the ISU Grand Prix and Junior Grand Prix Final at Beijing Capital Gymnasium. (Image via Getty)
[Japan, October 22: Russia's Vera Bazarova and Yuri Larionov perform in the pairs short program at the Grand Prix of Figure Skating in Nagoya. Image via AP.]
The best thing about Johnny Weir? Not his skating, his artfully coiffed hair, or his unabashed love of Chanel. It's his ability to create instant soundbites. Weir has a gift for spouting insane, enjoyable, marvelous proclamations.
[Grenoble, February 5, 1968. Image via Getty.]
[Spokane, January 14. Image via AP.]
Gennifer Moss, a woman notorious in Ashland, Oregon for skating and biking around the 'burg in the buff, was asked to tone it down after construction workers complained about her to the police. (Apparently, in Oregon, gallivanting around while nude is protected as free speech, and the construction workers come from a…