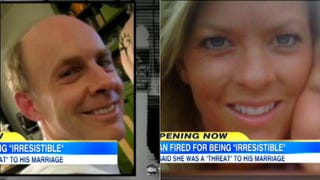 Iowa is a far more liberal state than it often gets credit for. Lumped in the middle of the country between Wisconsin – whose leaders have been doing some great work lately – and Kansas – which also rocks our socks off – Iowa chugs along, boasting a political life that's pretty evenly divided between conservatives and…
Tom Ford, a man who immobilized his forehead with Botox, thinks people should go naked. Especially, well... "Fat women almost always look better without the constraint and lumpy pinching of clothes, all the straps and elastic squeezing and sucking." [ContactMusic]
The case of one of the women suing Goldman Sachs for discrimination has been dismissed, which could also mean a settlement. Charlotte Hanna, fired one week before returning from maternity leave, had said working mothers were "second-class citizens'' at Goldman.
More allegations have emerged from the sexual harassment lawsuit three women filed yesterday against Goldman Sachs, including company-sponsored strip club nights followed by unwanted groping, racially insensitive emails, unequal pay, and clerical assignments equally-ranking men weren't asked to perform.
Can you be "gender harassed" — i.e., subject to discrimination — in the workplace without being subject to unwanted sexual advances? It seems obvious, but it's more complex than it sounds.
Debrahlee Lorenzana says she was fired from Citibank because her beauty was "too distracting" for her male colleagues. Her story is a disturbing example of discrimination in a male-dominated workplace — but also of girl-on-girl crime.
As part of her ongoing "Give Cancer The Finger Tour," Ruth Bader Ginsburg appeared Friday at a symposium in her honor at the Moritz College of Law at Ohio State University and opened right up.
Indigenous Australian commentators are aghast that the Down Under version of the Daring Book for Girls teaches and encourages girls and young women to learn and play the didgeridoo, an instrument that is taboo for women to even touch.• A woman is suing a UK hospital over a C-section that was performed on her without…
A 77-year-old man is suing a 19-year-old woman for "age discrimination" after she refused to fuck him. This is almost better than the time that guy sued God! The plaintiff is some famous German "playboy," naturally, and you really owe it to yourself to Google Image search "Rolf Eden," just to see the sort of guy that…