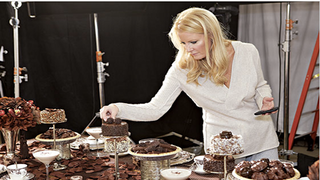 We know the basics on Sandra Lee: the hardscrabble story; the "Evangelist's fervor" with which she pursued success; her relationship with new York's governor; her deep commitment to the state's food banks. At this point, even shots at her Semi-Homemade empire feel cheap and stale. And yet, a new profile — perhaps the…
In picture after picture, Sandra Lee is like a virgin. Suggests Stacey London, "there's the idea of purity and the fact they aren't married and she's trying to not look like the girlfriend."
Beat this for a lede: "Newly minted Gov. Cuomo spent the night in his parents' old bedroom with First Girlfriend Sandra Lee and the power couple's newest "baby" — a 2-month-old cockatoo." Oh yes, the era of Lee has begun!
Okay, yes, they're only dating. But still! Thanks to Megan for reminding us of this particular abomination: Sandra Lee's Kwanzaa cake.
We're in a recession. Talented people are laid off every day. So why does Sandra Lee have two shows?